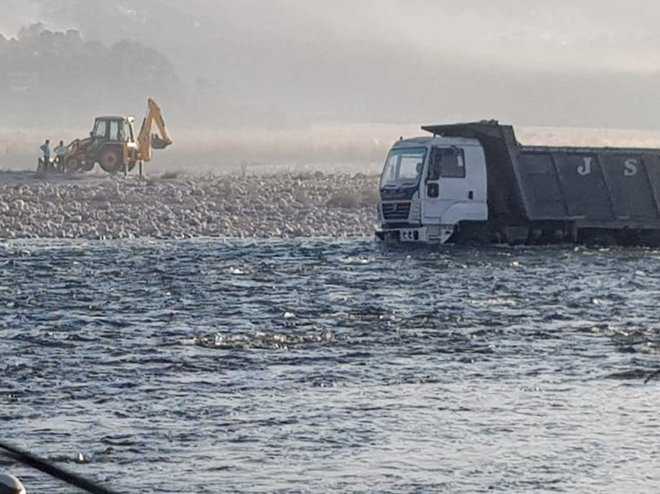 Ravinder Sood
Palampur, October 29
With the depletion of water level in the Beas, illegal mining has picked up once again in Jaisinghpur areas, as there is no check from the state agencies. A dozen of tractor-trailers, trucks and dumper can be seen extracting mining material from different points of the riverbed.
In fact, large-scale illegal mining in Jaisinghpur area has become a matter of concern. The Himachal Pradesh High Court and the state government have imposed a ban on all types of mining in the Beas here.
Unfortunately, the state agencies have failed to implement the orders of the High Court. Illegal mining has not only caused loss to the state exchequer worth lakhs of rupees daily, but also resulted in large-scale environmental degrading.
After visiting the affected areas, it was observed that not only the government land, but private land had also been hit by illegal mining.
Many residents complained that the level of their private land had become deep because of the large-scale extraction of stone by JCB machines. They said many domestic animals were killed when these fell into the deep trenches dug by the mining mafia.
MLA Ravinder Ravi Dhiman admitted that he had also received various complaints from residents of area that illegal mining and extraction of stone from the Beas had made their lives miserable. He said villagers had failed to get compensation for the loss of their livestock.
Dhiman said illegal mining had also caused large-scale pollution in the adjoining villages, which had lead to various diseases among residents. Many residents were suffering from pulmonary diseases. Many had become asthmatic at a young age. He was surprised that most of the crushers were functioning 24 hours without any check from the mining and HPSEBL authorities.
There are specific orders of the state government, NGT and Himachal Pradesh High Court imposing a ban on the use of heavy machinery such as earth-moving machines for mining, but such equipment are being used openly at Jaisinghpur for extracting mining material from local rivulets in gross violation of rules.
---
Animals fall into trenches, die
Illegal mining has caused loss to the state exchequer and resulted in large-scale environmental degrading
Private land has also been affected by illegal mining
Many domestic animals were killed when these fell into the deep trenches dug by the mining mafia
Villagers had failed to get compensation for the loss of their livestock
Illegal mining had also caused large-scale pollution in the adjoining villages which had lead to various diseases among residents
Many residents were suffering from pulmonary diseases