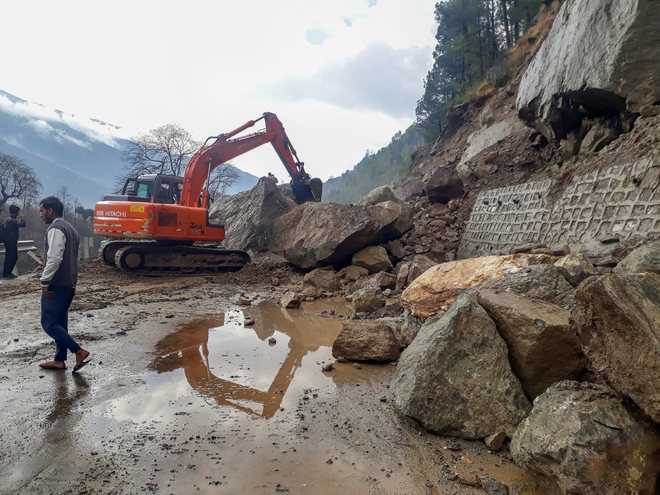 Dipender Manta
Tribune News Service
Mandi, February 22
A snow avalanche that hit the tribal district of Lahaul and Spiti on Friday swept away five vehicles near Thami Nullah in Pangmo village near Kaza.
Besides, the roof of Chomo Gompa and a forest guard's hut also got damaged in the region. Another avalanche was reported at Kakri Nullah near Kaza, but no loss of life was reported.
Due to heavy snowfall in the region on Thursday, the roof of the Food Corporation of India (FCI)'s foodgrain store at Karga village near Keylong got collapsed. The employees fear that the grain stored would be damaged due to snow.
In Kullu district, several roads were blocked today because of frequent landslides. The Chandigarh-Manali highway remained closed for traffic between Kullu and Manali till afternoon. Power supply and telecommunication services were also hit in the district.
The Himachal Pradesh State Electricity Board (HPSEB) on Friday restored the power supply to Udaipur. According to HPSEB Chief Engineer, Mandi, Pravesh Thakur, the power supply would be restored in Keylong till tomorrow evening.
He said due to closure of roads in the Valley, the HPSEB workforce had to move on foot to restore the power lines.
The two flights to Baring and Stingri in Lahaul and Spiti were cancelled on Friday because of bad weather in the region.
An avalanche was also reported at Nehru Kund just few kilometers away from Manali town on the Manali-Leh highway, which blocked the traffic movement towards the Solang valley.
Tenzin Gyachho of Lahaul and Spiti said due to adverse weather conditions, patients had been suffering. They need to be immediately airlifted out of the Valley.
A video of the avalanche, which triggered in the Solang valley of Kullu district on Thursday, went viral on the social media.
Top Stories