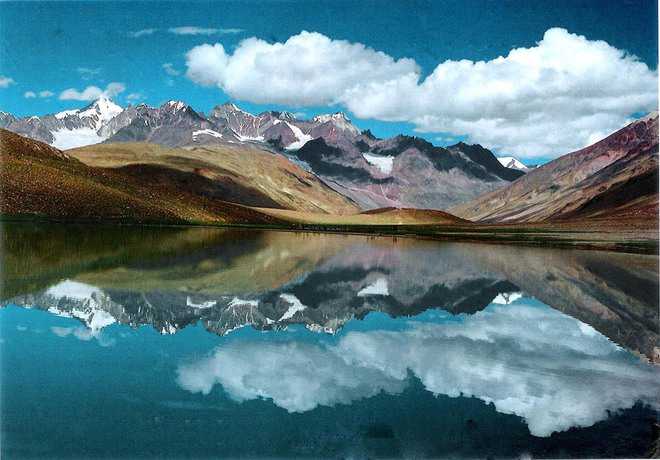 Dipender Manta
Tribune News Service
Mandi, July 28
To save the ecology of Chandertal Lake, the local panchayat has banned setting up of camps near the lake area in Spiti.
Chandertal Lake is a popular tourist destination in Spiti, visited by a large number of people between June and September. Due to high altitude and heavy snowfall during winters, the lake remains inaccessible to visitors for nearly eight months in a year.
During the past few years, the ecology of the lake has started degrading due to human intervention in the area. The residents are setting up camps on the periphery of the lake area for tourists. As a result, kitchen waste and the garbage is being strewn around these camps that has threatened the existence of the lake, which is known for its clean water.
Wild animals used to visit the lake during daytime to drink water, which fascinates the tourists.
Anju Shashni, pradhan of Koksar panchayat, said, "To save the ecology of the lake we have decided to bancamping close to Chandertal Lake. The kitchen waste and other garbage of these camps are posing threat to the ecology of the lake area. Wild animals descend on the shore of the lake to drink water. Polluted water of lake may pose threat to wildlife. So we are taking advance preventive measures to protect the sanctity of the lake and wildlife in the area."
She said the panchayat body had decided that no person would be allowed to set up camps beyond Batal toward Chandertal Lake. Heavy penalty will be imposed on offenders if they violated the directions of the panchayat authority.
Nestled in the majestic Himalayan mountains, the scenic Chandertal Lake is situated in the Spiti valley of Himachal Pradesh. Situated at an altitude of 14,100 ft, the lake, also known as Lake of the Moon, is favourite among trekkers and campers. This crescent shaped water body has no visible source and gets water from underground.
The banks of this mesmerising lake, which is situated on the Samudra Tapu plateau, get blanketed by colourful wild flowers during summer, making it look like a scene straight out of paradise.
Top News
UPI soon for all in-bound travellers, coin-vending machines:...
The bench was told by Solicitor General Tushar Mehta, appear...
US officials have briefed its friends and allies including I...
The incident takes place during the intervening night of Feb...
Lok Sabha sources say Rahul did not provide evidence to supp...