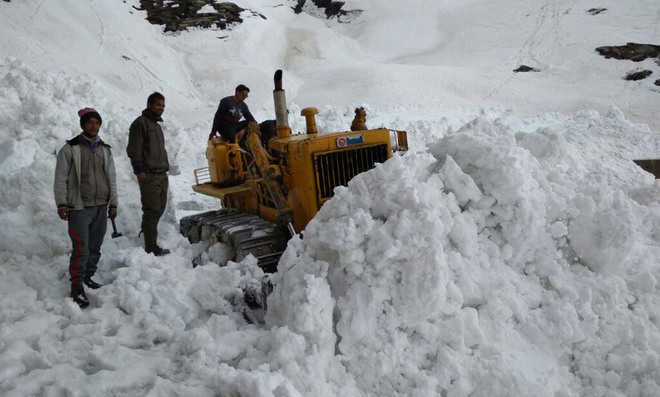 Dipender Manta
Tribune News Service
Manali, April 5
The Border Roads Organisation (BRO) has cleared 13,050-feet high Rohtang Pass of snow, enabling movement of light vehicles between Kullu and Keylong on the Manali-Leh highway.
Rohtang Pass, the gateway to Lahaul, had been closed for vehicular activity since December last because of heavy snowfall, which had deprived the residents of the tribal district Lahaul-Spiti connectivity with the areas with the rest of the state.
Equipped with modern machinery and technically skilled officers and jawans, the BRO had started snow-clearance operation on the Manali-Leh highway on March 12 after organizing a puja near Beas Nullah, about 32 km from Manali town.
Due to scanty snowfall this winter season, accumulation of snow was less as compared to the previous years, rendering the task of the BRO to restore traffic movement easier.
The people of Lahaul Spiti heaved a sigh of relief on Thursday after BRO successfully cleared the snow on Manali-Leh highway for smooth traffic via Rohtang Pass between Manali and Keylong.
Every year Rohtang receives heavy snowfall, which cuts off the residents of Lahaul Spiti from the rest of the state for several months. During that period they are at the mercy of the state government, which provides helicopter service in emergency cases to airlift people in and out of the district.
The BRO had engaged its work force and machinery along with five snow cutters, six excavators, eight dozers and other machinery to execute the task.
Confirming the development, Sub Divisional Magistrate Manali Raman Garsangi told The Tribune that the Pass had been cleared for vehicular traffic. However, there was need to widen the road for smooth traffic, which would be done in the next few days.
"To avoid any traffic congestion we have worked out an arrangement. One day vehicles will move from Manali side toward Keylong in Lahaul Spiti, while on the subsequent day movement will be from Lahaul side toward Manali in Kullu district. The arrangement will go on until the widening of road for smooth traffic is completed", he remarked. He said that initially only residents of Lahaul Spiti will be allowed to move on this route along with their vehicles.
Deputy Commissioner Yunus said that the Pass would be opened for tourist purpose when the BRO was able to widen the road for smooth traffic. Thereafter, adequate arrangements like parking facility and mobile toilets will be provided for the tourists.
Traffic to be allowedfrom Friday
MC Thakur adds: The BRO's 38 Border Road Task Force (BRTF) commander Colonel AK Awasthi said snow has been cleared from Manali-Rohtang-Keylong highway and traffic would be allowed on Friday. He said four teams, each consisting of 20 jawans, snow cutters, dozers and excavators moved towards Rohtang from its both sides and accomplished the operation this afternoon.
He further added that the jawans had to face blizzards, extreme cold and sliding snow to achieve this success. "We have opened Rohtang in record time. One of our teams is moving from Darcha towards Sarchu with the target to clear snow till Baralacha Pass by the end of this month," he said. The next move of the BRO will be to restore traffic on the Manali-Sarchu highway which further connects with Leh in Ladakh region.
Top News
PM Modi calls for maintaining balance between mitigation and...
The decision amounts to creating a parallel jurisdiction, ta...
No suspicious objects have been found yet, say police
During today's games, a generator would be required to power...
'In Punjab, Rs 11 is considered a 'shagun', so I am announci...