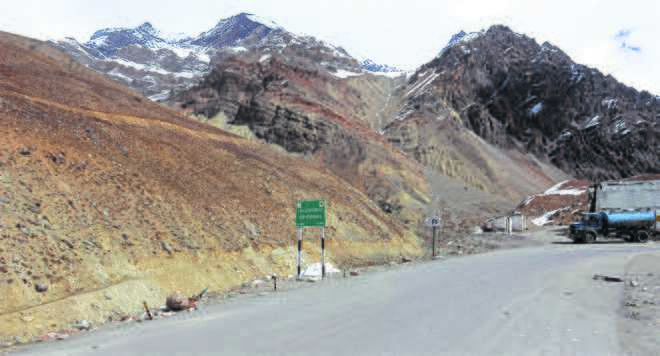 Vijay Mohan
Tribune News Service
Baralacha Pass, October 22
As the ambitious tunnel under the Rohtang Pass nears completion, the Border Roads Organisation (BRO) has initiated the process of constructing a tunnel under the 16,000-foot-high Baralacha Pass, 190 kms ahead of Manali, on the highway to Leh.
This would be the second of the four proposed tunnels envisioned to provide an all-weather access to Ladakh through this 475-km route that remains closed for six months a year due to snow. The other two tunnels are proposed to bypass Lachunglang Pass (16,600 feet) and Taglang Pass (17,480 feet).
"Work on preparing the detailed project report for the tunnel has commenced and it's expected to be submitted to the Ministry of Defence in December," Brig NM Chandarana, Chief Engineer, Project Rohtang, said.
Soil samples from the proposed site from where excavation is to be undertaken have been collected for geological investigations and the data is being analysed, he added.
Besides its military significance of enabling year-round movement of troops, equipment and supplies, the tunnel that will connect Himachal Pradesh's Lahaul and Spiti region with Jammu and Kashmir's Zanskar area would also benefit the civilian population in terms of local trade, medical evacuation and winter sustenance.
The tunnel is expected to be around 14 kms long and several options are being considered for its alignment to meet topographic conditions.
The south portal would be at Zing Zing Bar (13,760 feet), 175 kms ahead of Manali, near the base of the pass on the right bank of the Bhaha river. The north portal across the pass would be at Killing Serai (14,869 feet). The road distance between Zing Zing Bar and Killing Sarai over the pass is about 35 kms.
The design of the Baralacha tunnel would be different from the one under the Rohtang Pass. While the 8.8-km Rohtang tunnel that runs between Solang, near Manali, and Sissu on the other side is almost straight, the one at Baralacha would be curved with two turns near each end.
"It has also been recommended that the emergency escape channel for Baralacha passageway should run alongside the main passageway instead of under it as is the case at Rohtang," a BRO officer said.
The escape channel, which runs for the entire length of the tunnel with entry points at fixed intervals, is meant to evacuate persons in case the tunnel gets blocked. Unlike the Rohtang tunnel, which would save over four hours, the Baralacha tunnel would cut down travel time by about two hours, but, BRO officials say it would provide the vital all-weather connectivity across the pass winter.
Travel time to be cut by two hours
The tunnel, to be about 14 kms long, will connect Himachal's Lahaul and Spiti region with Jammu and Kashmir's Zanskar area
Its south portal would be at Zing Zing Bar, 175 kms ahead of Manali, and the north portal at Killing Serai
Tunnel would reduce travel time by around two hours