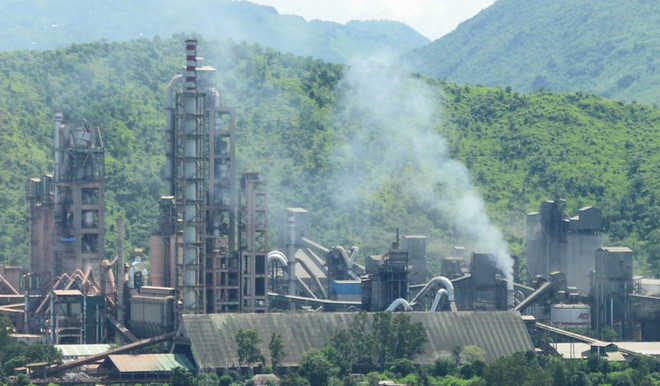 Dipender Manta
Tribune News Service
Mandi, December 31
The ACC cement plant at Barmana in Bilaspur district has become a major source of air pollution in nearby Salappar, Kangu and Dehar panchayats of Mandi district.
People of the area allege that ill-effects of the plant, set up in 1984, have started becoming visible now. A large number of people have been afflicted with diseases like cancer, tuberculosis and asthma, they claim.
Smoke and dust emanating from the plant is harming ecology of the area. Leaves of plants and grass blades in the area can be seen covered with a thick layer of dust.
Noise pollution in the area, especially during the night, has also gone up drastically over the past few years.
"Locals continue to face ill-effects of this plant, but none of them has been provided any relief or employment under the rehabilitation plan," residents claim.
Jitender Verma of Salappar said he brought the matter to the notice of Himachal Pradesh High Court in February this year, which constituted an expert committee to review the situation.
The Bilaspur Deputy Commissioner is the head of the committee, while Mandi Deputy Commissioner is its member.
"We have asked the plant authorities to work out a solution to reduce pollution in the area and provide relief and employment to the affected people.
Salapar, situated only 200 metre away from cement plant, was excluded from the compensation and rehabilitation plan," they said.
Salappar gram panchayat vice-chief Jagdish Chand said no compensation was provided to the people of three panchayats of Mandi district as the plant authority said the plant was situated in Bilaspur district.
Mandi Additional Deputy Commissioner Raghav Sharma said, "On the directions of the High Court, the expert committee held a meeting with representatives of gram panchayats concerned and cement plant authorities yesterday.
They have been asked to provide details about air pollution level, funds allocated for relief, etc. Soon, the panel will submit a report to the HC for further action."
Health hazard
Smoke and dust emanating from the plant is harming ecology besides leading to diseases like cancer, TB and asthma among local residents
Leaves of plants and grass blades can be seen covered with a thick layer of dust
Noise pollution in the area, especially during the night, has also gone up over the past few years