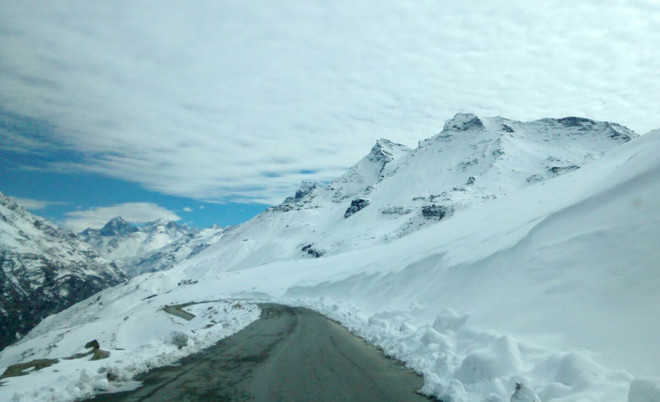 Pratibha Chauhan
Tribune News Service
Shimla, January 24
The Himachal government will run both the CNG as well as battery-operated electric vehicles on the 51-km stretch between Manali and Rohtang. But the setting up of the mother and daughter CNG filling stations in Una and Manali may take time.
The Transport Department has decided to ply about 50 big CNG buses and 25 small battery-operated vehicles likely to cost about Rs 55 crore in the ecologically fragile stretch between Manali and Rohtang. However, there is uncertainty whether the state government will be able to have these eco-friendly vehicles in place by the start of the tourist season in April.
"We will be procuring 50 big CNG buses on a 75:25 fund sharing basis and 25 small electric buses on 90:10 fund sharing basis so that these can be pressed into service," informed Ajay Mittal, Additional Chief Secretary, Transport. He, however, added that the plying of CNG buses would be subject to the setting up of the CNG Mother Station in Una district and the Daughter Station at Manali.
Perturbed over the delay in spelling out options that Himachal government was exploring, the National Green Tribunal (NGT) had directed the authorities to apprise it of the progress in this regard. The NGT has banned plying of diesel and petrol vehicles between the popular tourist destination of Manali-Rohtang to save it from environmental degradation. With CNG supply being available only up to Sonepat, a CNG station will be set up by Gas Authority of India Ltd (GAIL) in Una for which land transfer case has already been sent to the Revenue Department. A sum of Rs 12 crore is likely to be incurred on the setting up of the Daughter Station while the amount for the Mother Station will be more.
The Union Ministry of Heavy Industries will provide a major share of the cost of the CNG and electric vehicles but despite having had trial run of CNG buses till Rohtang everyone is skeptical about the success of the experiment. In case of electric vehicles the situation is no different as these are being imported from the United Kingdom as these are not manufactured in India.
The state government conducted trial runs for CNG buses in July last year after hiring a CNG bus from the Delhi Transport Corporation. The trial run for the electric vehicles was undertaken in December last year as the government had tied up with Mahindra and Mahindra. Maxi cabs were run in three different topographies of Shimla, Solan and Una to test their suitability.
The issue of setting up of charging stations would be another task before the state government as a fully charged battery would be able to cover only a distance of about 110 km. While the time to fully charge a battery is about eight to nine hours, experts have suggested that the effectiveness of a fully charged battery is reduced by almost 40 per cent in colder climes.