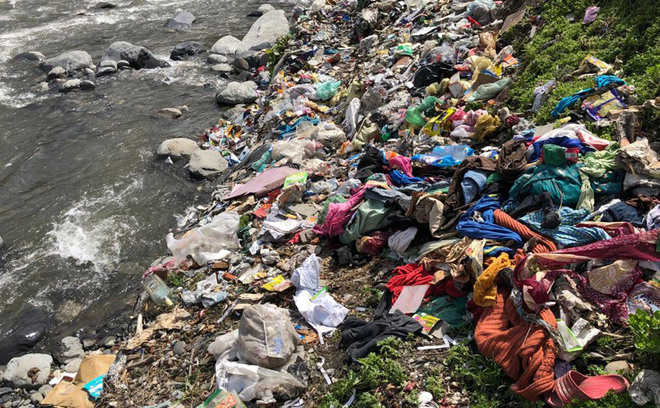 Dipender Manta
Tribune News Service
Mandi, March 27
Environmentalists have raised concern over the rising pollution in the Beas in Kullu district because of dumping of waste material into the river.
Due to poor waste disposal management in the district, the Beas is turning into a place for dumping garbage and other waste material.
There have been reports that at many places sewerage water from hotels and households in Kullu, Bhunter, Manikaran and Manali was directly flowing into the Beas and the Parbati rivers. Krishan Sandhu, an environment lover, said the authorities concerned should take strict action to protect the water body as it had posed threat not only to the future of the river but also to the aquatic life.
Abhishek Rai, an environmentalist from the district, claimed that the four-laning work on the Kiratpur-Manali highway was going on and the National Highways Authority of India (NHAI) was dumping muck into the river.
"Despite National Green Tribunal orders to protect the river, the situation still remains grim. There is need to develop proper mechanism for the disposal of garbage in the district," he demanded.
He said a fresh inspection should be carried out to detect those households and hotels in the district that were lacking sewerage facility. It would help in checking the direct flow of sewerage water in the Beas.
"The district administration should deal strictly with the NHAI, which was directly dumping muck in the river. Heavy penalty should be imposed on offenders," he added.
Yunus Khan, Deputy Commissioner, Kullu, said: "The authorities are monitoring the situation to protect the river. Last year we had imposed penalty on offenders, who were found guilty."
Top News
No immediate report of any loss of life or property; people ...
Earlier, Amritpal was caught in CCTV footage at a toll plaza...
Police have arrested 154 people so far but Amritpal is still...
Stringent National Security Act has been invoked against Amr...
In his first reaction to the police action, the CM releases ...