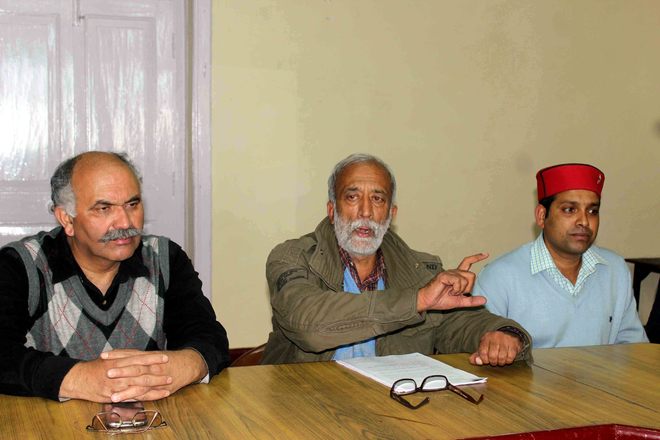 Tribune News Service
Shimla, November 24
The Communist Party of India (Marxist) today came out in support of the tribals of Kinnaur who have been opposing the construction of power projects, including the 1,200 mw Karcham-Wangtoo, 100 mw Sorang, 9 mw Ralla-Taranda in the Sutlej basin.
The party accused the successive governments of mortgaging Kinnaur to please independent power producers (IPPs) by scrapping the "project monitoring wing".
The successive state governments scrapped the project monitoring wing in HP State Electricity board Limited, giving a free run to the IPPs.
"The IPPs are constructing power projects without ensuring quality control," charged Rakesh Singha, senior CPM leader, at a press conference today. "The restoration of the quality control wing is the need of the hour," he said.
"The mishaps in Sorang, Baragaon and Malana took place because of the blasting as there is no independent government agency to monitor the construction," Singha said. "The monitoring wing was abolished at the behest of the Jaypee company that constructed the 1,200 mw Karcham-Wangtoo in 2012 without giving any importance to the quality control," he said.
At Karcham-Wangtoo, leakage is raising concerns," Singha said.
The water speed in the tunnel had increased over the years, he said.
"When the IPPs hand over the projects to the state after 30 years after the lease period is over, these would be white elephants and dangerous to operate," he said.
The CPM demanded that the quality control wing should be restored and each project should be monitored because the Himalayas are expanding.
"The damage has been noticed at Urni, Meru and Chagaon in Kinnaur where several villagers have vacated their houses," Singha said.
He said the power projects generates electricity and were a source of revenue for the state.
Top News
Odisha government has issued helpline 06782-262286. The rail...
At least 50 people died and 350 were injured in a three-way ...
12837 Howrah-Puri Superfast Express, 12863 Howrah-Bengaluru ...
WFI chief demanded sexual favours in lieu of supplements and...
Said agitation will be intensified by holding panchayats acr...