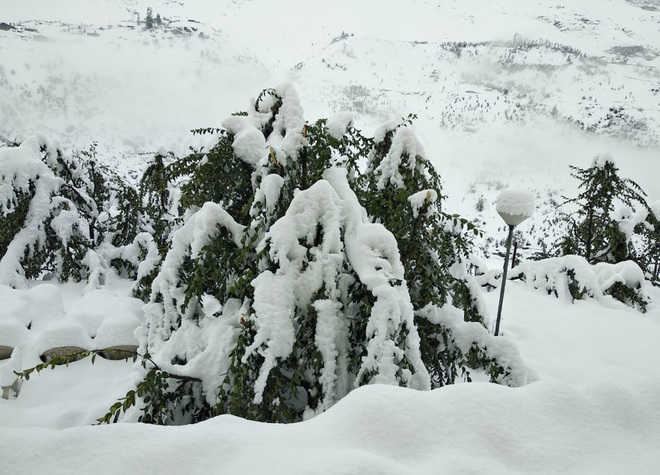 Dipender Manta
Tribune News Service
Mandi, September 27
Farmers of the tribal district of Lahaul Spiti have sought a relief package from the state government as their crops have suffered massive destruction because of heavy snowfall in the valley. A majority of apple orchards have been damaged due to inclement weather.
Patan valley, famous for apple production, was badly hit by untimely heavy snowfall, which damaged the apple plants. Goshal, Shansha, Kirting and Jahlama villages are known for apple production, where famers are in distress after heavy snowfall.
Ajit Singh, a native of Goshal, said "Untimely snowfall has spelt doom for us as apple orchards have been badly damaged because of heavy snowfall. Apart from apple, cabbage and cauliflower crops have also been damaged. These were ready for harvesting."
"The worst affected area is Patan valley, where apple cultivation takes place on a large scale. We were feeling helpless as our cash crops have been damaged. These crops were the sole source though which we sustained our livelihood", he remarked.
In the Chandra valley there was considerable loss of vegetable crop at Khangsar, Gondhla Shooling, Sissu, Koksar and a few other villages, where crop harvesting season was on peak.
Prem Lal of Gondhla village, said "The untimely snowfall has put farmers of the district on the edge as our cash crops have been damaged. Cauliflower, cabbage and potato were ready for harvesting but heavy snowfall has covered the entre district with white mantle. We are feeling helpless. How will be able to feed our family after such huge loss?"
"The district remains cut off from the rest of the state for five months during winter because of heavy snowfall at Rohtang Pass, the gateway to Lahaul, and we are worried how we will sustain our family during those months. The state government should come forward to help the residents of Lahaul Spiti, especially famers, who lost their livelihood because of snow disaster", he remarked.
Similarly, farmers of Tod valley and Miyar valley have been hit badly. District Congress Committee Lahaul Spiti has urged the government to compensate the farmers and declare the district a disaster-hit area.
Top News
Says one of the Bills seeks to give representation in Assemb...
Among the 10 who put in their papers are nine Lok Sabha MPs,...
Resignation of Union ministers also revived speculation of r...
The withdrawal of statement by MP Senthil came when the Hous...
The Punjab DGP office had written a letter to Rajashthan Pol...