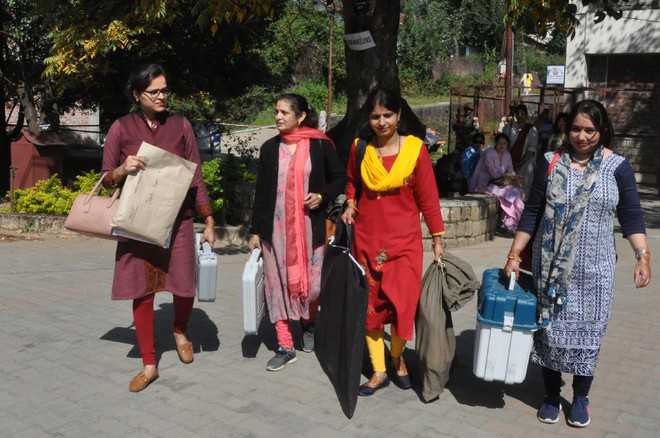 Lalit Mohan
Tribune News Service
Dharamsala, October 20
As the campaigning ended yesterday, political parties spent their day preparing for booth-level management today. There are 89 polling booths in Dharamsala. The total voters are 81,074 — 41017 men and 40,057 women.
Both Congress and BJP carried out a booth-level exercise to inform voters regarding their polling booths. Polling agents of both parties were selected to sit inside the booth.
The BJP in the previous elections had a better record in the booth-level management. During the last parliamentary elections, the party organised meetings of workers which were addressed by various national leaders. In Himachal, the BJP had appointed 'panna pramukhs' who were the in-charge of a page (panna) of voters. They were given the task of going to the houses of voters and apprised them regarding the policies of the Modi government.
However, in the byelection, the party has not followed the practice. No official meeting of panna pramukhs was organised.
Congress candidate Vijay Inder Karan, who is contesting the poll for the first time, has prepared his own team of workers, who are managing the booths. Many disgruntled Congress workers, who were not happy with Sudhir Sharma and were sidelined when the AICC secretary was in charge of the constituency, have joined Karan.
Independent candidate Rakesh Kumar, who has turned the bypoll into a triangular contest, will also be organising booth-level management. Most volunteers are the OBC youth, who are upset because both parties have ignored their community and chosen a 'gaddi'. As most outsider leaders have gone back, the onus of managing the activities on the day of polling has fallen on the candidates.
For BJP candidate, who was a Yuva Morcha leader, the cadres of the ABVP wii manage polling booths, while from the Congress, it will be supporters of the contesting candidate.
---
Polling booths 89
Total voters 81,074
Male 41,017
Female 40,057