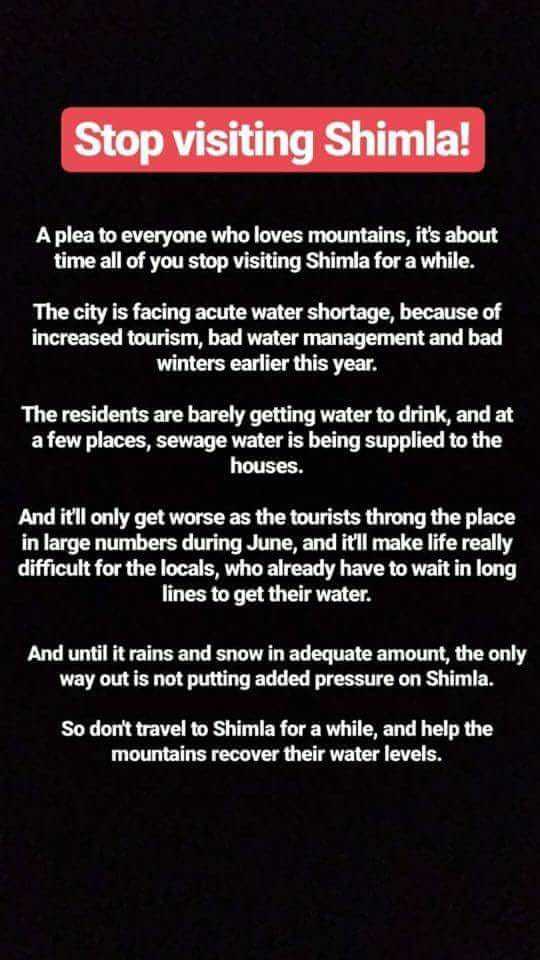 Bhanu P Lohumi
Tribune News Service
Shimla, May 28
Residents of the state capital have taken to the social media to warn tourists against visiting the city and advising them to reschedule their itinerary in the wake of the worst-ever water crisis.
"Please do not consume our water, if we get it in days to come. There is no water for the past one week. Please plan your trip to some other destination", reads an advisory posted by a local resident on the social media.
They urged the tourists to take precautions while eating at dhabas and restaurants as water is not available for cooking and unsafe water is being used instead.
Some of the hotels have posted messages on their social networking sites saying, "Please do not come to Shimla and those who have made advance booking in our hotel will get the full refund if they wish to make a cancellation request."
The Tourism Industry Stakeholders' Association (TISA) and the Shimla Hotel and Restaurant Association (SHRA) is contemplating resorting to "No service, no bill" policy.
"Despite our repeated requests, the SMC has failed to provide water. If the situation continued, the hotel industry will not pay any taxes. Hoteliers will have no choice than to shut their establishments," said MK Seth and Harman Kukreja, TISA and SHRA presidents, respectively.
However, they rebutted the allegations on social networking sites that unsafe water is being used in dhabas and restaurants. They said hoteliers were banking on tankers for water supply, which was of good quality. Mineral water was being used for drinking purposes, they added.
According to information, the price of a water tanker (12,000 litre) has gone up from Rs 2,500 to Rs 8,000.
MK Seth said occupancy in hotels was about 80-90 per cent at present. Tourists are making frantic calls and asking for booking cancellation. If "false propaganda" was not stopped, tourist inflow would be badly affected, he added.
Situation to worsen from June 1
With the beginning of summer vacation in schools in the plains from June 1, tourists will make a beeline for the city to get a relief from the scorching heat. Although water problem is not a new for Shimla, it is for the first time that people are not getting it even on the seventh or the eight day.
Top News
After a wait of over two years, India will have a full-fledg...
The petitioner contends that the automatic disqualification ...
Upon his arrival at the CBI headquarters at around 10.30am, ...
Paid price for raising Adani issue: Congress | 'Anti-OBC, fe...