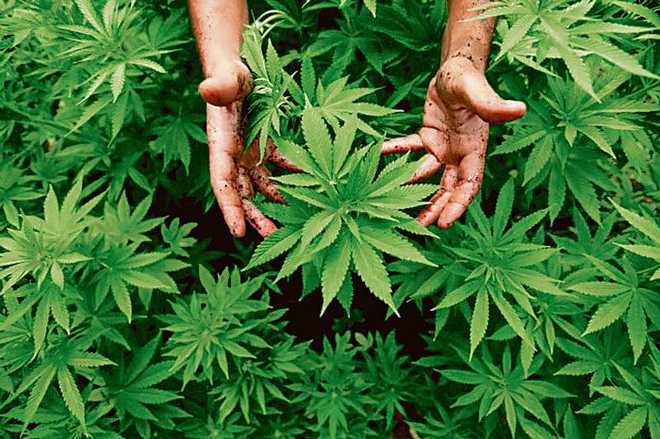 Bhanu P Lohumi
Tribune news Service
Shimla, September 23
To counter cannabis cultivation that has been rooted out from most parts but is still prevalent in a few higher reaches of Himachal Pradesh, the state police department is all set to purchase drones that will enable its personnel to spot the remote areas where the drug is being grown illegally.
The drones, said sources, would provide high-end thermal images of cultivation and precisely identify the location, especially in areas cut-off from habitations and not connected by road or pedestrian path.
Following a massive drive for eradication of cannabis plantation, which also involves attachment of properties of growers, the cultivation on private land has been reduced to 5 per cent while 95 per cent of the cannabis is grown in high-altitude forest areas in perilous terrain in Kullu, Mandi, Shimla, Sirmaur and Chamba districts.
Nepalese labourers, who are accustomed to trekking and farm activities in harsh and hostile terrain, are engaged in growing cannabis in far-flung areas, sources in the police said.
"As wind velocity is quite high in higher reaches, we are in the process of buying drones, which can provide high-end thermal images of cannabis cultivation in inaccessible areas. Two companies have been shortlisted and specifications are being worked out," said SP (Narcotics) Ashok Kumar.
Kumar said for the first time, diesel-operated bush cutters were being provided to the police to root out the cannabis shrubs. "An amount of Rs 15 lakh will be made available to the police for engaging manpower and machinery for eradication of cannabis," he said, adding Rs 5 lakh each would be allotted to Kangra, Mandi and Shimla zones. The cultivation of poppy has also witnessed a significant decline and dipped to less than 5 per cent as it requires a suitable climate and cannot be grown in isolation without care.
As per a national survey conducted by the National Drug Dependence Treatment Centre, New Delhi, the prevalence of use of charas/ganja is 1.2 per cent in India and 3.2 per cent in Himachal. The problem is grave and has assumed alarming proportions over a period of time as the number of drug addicts and people involved in illegal drug trade has increased phenomenally.
As many as 500 panchayats in the state are involved in opium and cannabis cultivation and it being a lucrative illegal business, locals were falling prey to it, said OP Sharma, Member, Institute of Narcotics Studies and Analysis, and former SP, Narcotics Control Bureau (Chandigarh division), who has intensively worked in the focused area.
Cultivation areas
Kullu district: Malana, Manikaran, Tosh Kutla, Banjar, Sainj, Anni-Khanag region, Malandar Thach, Avgal Thach, Bhelang, Thisco, Waichin, Magic, Neeramg, Chanderkhani Pass, Fauzal, Kathi Kukdi
Mandi district: Chauhar, Bali Chowki (Thachi and Dider Jhamach), Gada Goshaini (Seraj region)
Other areas: Churah, Salooni, Bharmour in Chamba district; Bara Bhangal in Kangra; Pulwal, Gyan Kot, Shillai and Rajgarh in Sirmaur and remote areas of Rohru, Chopal and Dodra Kwar in Shimla
Top News
UNGA: In veiled attack on Canada, says non-interference can'...
Asks Attorney General to get matter resolved
Promises flood relief for HP | Mann says no water to share w...