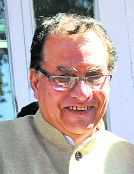 Tribune News Service
Shimla, February 18
Education Minister Suresh Bhardwaj said all possible steps were being taken, including starting of pre-nursery classes in 391 schools, to prevent decline in enrolment in government schools besides other steps to bring about qualitative improvement.
The minister was replying to the cut motion on Education Department in the Vidhan Sabha on Monday. He said the starting of pre-nursery classes in391 schools had helped in additional enrolment of 40,000 students, but it had become a status symbol to send children to private schools.
"It is due to reckless opening of schools and colleges with no budgetary allocation, infrastructure and land that colleges were opened during the Congress regime which resulted in decline in education level in the state," he said when former CM labelled the BJP regime as anti-education as it had attempted to close the colleges opened by his government.
"After getting surveys done, it has been found that the main reason for declining enrolment in the government schools is that children are admitted at the age of six as per the Right to Education while private schools make admission at the age of three years," he said.
He said an effort was being made to set up smart classrooms in schools and colleges so that the teachings from here could be linked to other schools where there is vacancy of teachers, especially maths and science," he said. He added that language laboratories were being started in many schools so that the communication skills could be imparted to the students.
Bhardwaj said the budgetary allocation for the education sector had been enhanced from Rs 7,044 crore to Rs 7,598 crore which was a hike of Rs 7.86 per cent. "This clearly reflects the seriousness of our regime towards the education sector for which 18 per cent of the total Budget outlay has been made," he said. The minister said the latest Annual Status of Education Report (Rural) 2018 had indicated greater improvement in the learning levels of government schoolchildren as compared to those enrolled in private schools. As per the survey, 99.7 per cent schools have toilet facility and students of Class V in government schools had the best languages and mathematics skills in the country.
The minister said an effort had been made to fill up vacancies and 3,013 schoolteachers and 299 college teachers had been recruited. "I admit there has been delay in giving school uniform and laptops to students which should not have happened and I assure there will be no delay in future," he said. He added that efforts had been made to promote college principals and fill up vacancies. Asha Kumari, Harshwardhan Chauhan, Nand Lal and Rakesh Singha participated in the debate. The cut motion was defeated by voice vote.