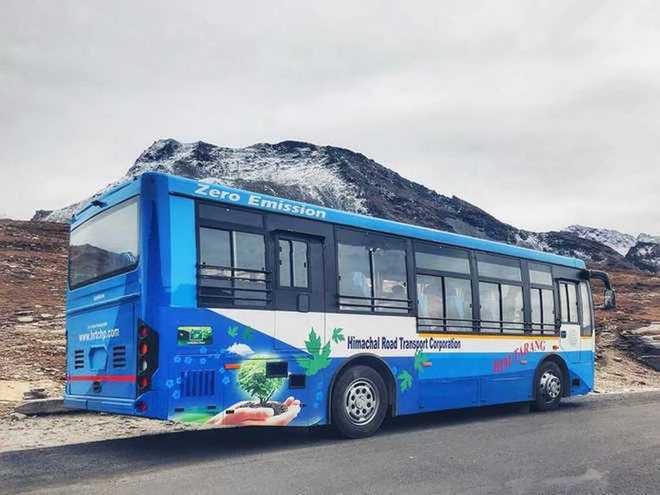 Our Correspondent
KULLU, MAY 31
Two electric buses will ply from Manali for Rohtang Pass from June 3. Revealing this, Kullu HRTC Regional Manager DK Narang said that more electric buses would be added after the parking space at Rohtang is cleared by the Border Roads Organisation (BRO). Last year, 17 electric buses were put in service from Manali to Rohtang during the summer season for the tourists.
The Regional Manager said the fare per seat would be around Rs 600. Two electric buses having seating capacity of 25 passengers each would leave from Manali bus stand in the morning and halt at Rohtang Pass for 2 hours. He said that tourists visiting Rohtang Pass would be benefited as they would have to pay far less than taxi fares.
The district administration had decided to throw open Rohtang for tourists from June 1 and allow 1,300 vehicles having permit to cross Gulaba barrier as per the directions of the National Green Tribunal (NGT). Rohtang Pass is a major attraction for tourists visiting Manali as it is covered with a thick layer of snow at this time of the year. The tourists enjoy various adventure activities on the snow.
So far the tourist vehicles were been allowed up to Marhi only. Reports say that taxi drivers were charging exorbitant fares from the tourists.
A video showing alleged anomalies in the vehicles proceeding beyond Gulaba barrier had gone viral on social media after which the administration set up another check post at Kothi. Two vehicles having same number were penalised. The administration in past couple of days has imposed fine on a large number of vehicles and blacklisted some of them to go beyond Kothi barrier for five days after finding anomalies in their documents or permits.
Top News
President hails India's achievements in overcoming Covid-19 ...
Jhunjhunwala, Big Bull of Dalal Street, passed away in Mumba...
If Jhunjhunwala would have had a regret, it was not seeing t...
'Jaishakar said that Europe is buying gas from Russia and we...
Magnitsky petition yet another attempt to bring Indian Gover...