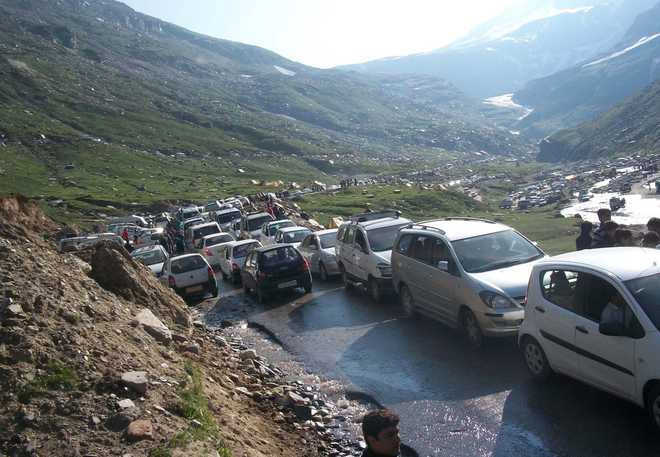 MC Thakur
MANALI, MAY 22
The HRTC will start its electric bus service on the 51-km Manali-Rohtang route from Wednesday.
With the opening of Rohtang, thousands of tourists have thronged Manali. The demand for taxis to Rohtang is very high.
As a limited number of vehicles are being allowed to Rohtang, the electric bus service is going to provide tourists a major relief.
HRTC regional manager DK Narang said, "We will start with three buses. Seats have been booked in a few hours. The fare is Rs 600 per passenger. The buses will leave Manali for Rohtang at 8 am, 8:30am and 9am and will return in the afternoon. We will increase the number of buses as per demand," he said. A bus has the capacity to carry 25 passengers.
After the order from the NGT, the government had conducted trial run on CNG and electric buses.
The NGT had asked to replace petrol and diesel vehicles with CNG and electric ones. It also limited the daily quota of vehicles going to Rohtang for tourism purposes to 800 petrol and 400 diesel vehicles. Commuters are required to obtain online permits on the first-come, first-served basis.
Being a peak season, thousands of tourists are visiting Manali every day and the demand of the vehicles is gradually increasing.
The service will be available for six days a week and will remain shut on every Tuesday when Rohtang remains closed for all vehicles due to maintenance works carried out by the Border Roads Organisation. The electric bus service to Rohtang had started in the winter season for a few days last year.
Him-Aanchal Taxi Operators Union president Gupt Ram Thakur said they had come to know that the bus service to Rohtang would start from Wednesday.
He said the union would cooperate with the government in smooth running of the bus service.
The deluxe bus on the Manali-Leh road will start from May 25. This service is being operated for the first time.
The HRTC will charge Rs 835 from its passengers. This will be a two-day trip and will be beneficial for tourists and residents of Ladakh.