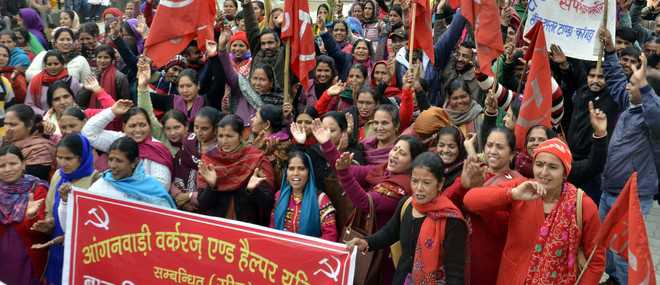 Our Correspondent
Nurpur, January 8
Up in arms against the Electricity (amendment) Bill-2018, Himachal Pradesh State Electricity Board Ltd (HPSEBL), hundreds of board employees on Tuesday held a demonstration under the banner of the HPSEBL Employees' Union at Fatehpur.
Units of the union from Fatehpur, Jawali and Nurpur took part in the protest. The protesters led by Pawan Mohal, the state senior vice-president of the union, assembled in front of the divisional office of the Board at Fatehpur and raised slogans against the amendment Bill. They also held protest march up to the office of the SDM.
Later addressing the rally, Mohal said the state government should also oppose the proposed act being enacted by the Union Government as it was not only anti-employees, but also against the interests of power consumers in the state.
"If this Act is enacted and enforced in Himachal Pradesh the power generation, transmission and distribution will be split up and divided into small companies, which will ultimately burden the power consumers and also trouble the board employees," he lamented. He said the industries, other revenue-generating units and power consumers would go in the hands of private players in the state, which was not in the welfare of the state.
Employee unions protest in Dharamsala
Dharamsala: Employee unions of various banks, Anganwadi workers, medical associations, LIC and CITU-affiliated organisations carried out a protest and sat on a dharna in front of the Mini Secretariat here on a nationwide strike call by 10 central unions. The workers alleged that the NDA government was adopting anti-worker attitude. The proposed amendments to the trade union Act 1926 were dangerous to the independent functioning of unions, they alleged. The strike affected the working of various banks in the region. — TNS
Power Act amendment opposed
Solan: Employees of the HP State Electricity Board Employees Union today staged a protest here against the Electricity Amendment Bill 2019 on a call given by the National Co-ordination Committee of Electricity Employees and Engineers. Led by unit president Sohan Lal and secretary Jitender Chandel, the employees raised slogans in support of their demands. They said the proposed amendment would also put an additional financial burden on the consumers, especially those residing in the rural areas. — TNS