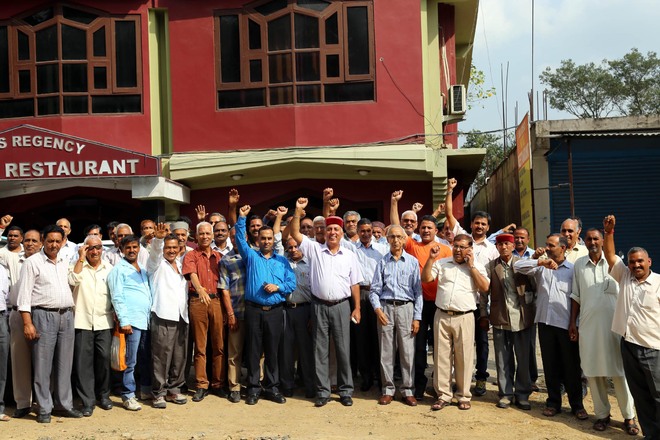 Tribune News Service
Mandi, September 6
Farmers affected by four-laning of Nerchowk to Manali stretch of the National Highway-21 have demanded four times compensation of the market value of their land.
A meeting under the banner of four-lane sangharsh samiti was held at Bagla in the district today. A large number of affected farmers hailing from Mandi and Kullu district attended the meeting.
Samiti president Brigadier Khushal Thakur (retd) said people were not against the land acquisition, but it should not be at the cost of farmers. "Our fight is for fairness and justice," he said.
He said the state government should implement the new land Act in letter and spirit and provide four times land compensation of the market value and set up a rehabilitation and resettlement mechanism. Otherwise, the people would have no option but to fight for their rights and hit the street.
The compensation should be determined on the basis of prevalent market value of the land and not the circle rates, he said.
"It is no secret that circle rates are kept deliberately low to minimise stamp duty and, therefore, the difference between circle rate and prevalent market rate is usually vast," he said.
Contrary to the provisions of the new land Act, 2013, the state government had adopted the lowest standard of compensation for acquisition of land for the national highway in the state, he added.
"Many states have already increased the multiplication factor to more than two and it is not understood as to why the state government is adamant and pursuing anti-farmer policies," he said.
Moreover, the entire cost of the land acquisition compensation would be borne by the Central government and the state would have no financial burden to bear. Therefore, the notification issued on April 1 was unconstitutional and the action of the state government was absolutely anti-farmer, he said.
The district collectors were required to revise and update the market value of the land on the basis of the prevalent market rate before initiation of any land acquisition proceedings, but the same had not been done despite repeated representation, he said.
"The affected persons are keen to know the market value fixed for their land but no such information has been provided," he said. The farmers should also be consulted before fixing the market value of their land, he said.
The rehabilitation and resettlement component had been introduced after 67 years of independence with the sole object to ensure adequacy of compensation to the affected people, he said.
Top News
Had complained to PM Modi about the activities of Brij Bhush...
Section 124A of the Indian Penal Code dealing with sedition ...
The postings and transfers of the officers have been made on...
'We are distressed and disturbed at the unseemly visuals of ...
The representatives of various khaps and farmers' outfits re...