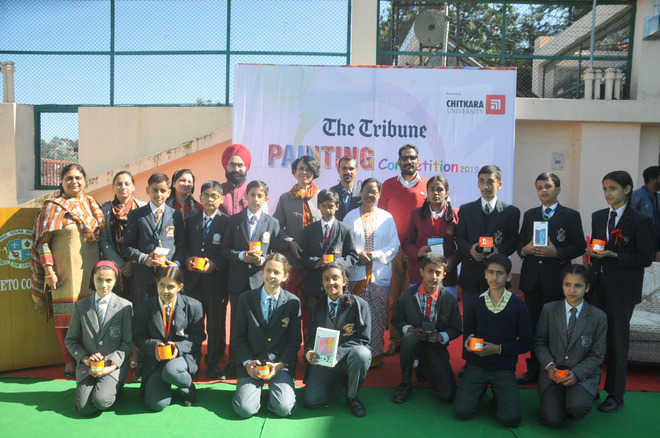 Tribune News Service
Shimla, October 22
Creativity was on display as 220 students from 13 schools brought their imagination alive in colours on the canvas on "Plastic-free Himachal" during a painting competition organised by The Tribune in association with Chitkara University at Loreto Convent School, Tara Hall, today.
The government has decided to make HP plastic-free but the tendency of supplying eatables in plastic bags has to be curbed and the awareness, spread by students through their paintings today, would bring the change, said Additional District Magistrate (Law and Order) Prabha Rajeev, who was the chief guest.
Exhorting students to use electricity and water cautiously, she said activities like painting helped in relaxing and releasing tension. She asked the students to stay away from drugs, be selective in choosing friends and keep good company.
Assistant professor, department of visual arts (HPU), Dr Nand Lal said action speaks louder than words and today not only 220 children, but 220 families had also been made aware of the ill-effects of plastic use. Artists could give new direction to the world and involving kids in such activities would inculcate good practices among them.
The topic, given to students, was relevant in present time and such events sensitised and motivated the youth to work towards bringing positive change in the environment, said another judge, assistant professor, department of painting, RKMV, Dr Bhader Singh, who also shared a small story with the participants on how one could show respect for the country by keeping it clean.
The students used water colours during the two-hour on-the-spot competition as it gave elasticity, brought transparency and better effects in painting, said coordinator of the event Reetu Khanna Sharma. The students ensured that there was no littering on the spot and cleaned the venue. The schools that participated in the event included St Edward's School, Loreto Convent School, Tara Hall, Chapslee School, KV-Jakhoo, DAV-Totu, KV-Jutogh, GSSS-Sanjauli, Shimla Presidency School, Government Model Senior Secondary School, Portmore, JCB Senior Secondary School, New Shimla, DAV-Lakkar Bazar, Mount Shivalik Senior Secondary School, Jubberhatti, and Swaran Public School, Tutikandi.
---
Other winners
Fourth: Raghav Seth,
St Edward's School
Fifth: Anirudh Kanwar,
KV-Jakhoo
Ten consolation prizes: Harshita Sharma, Himani Dutta, Ashwarya Nath, Naman Gupta, Aditya Thakur, Karan Kumar, Ishaan Kumar, Samriti, Chahat and Saurabh Sharma