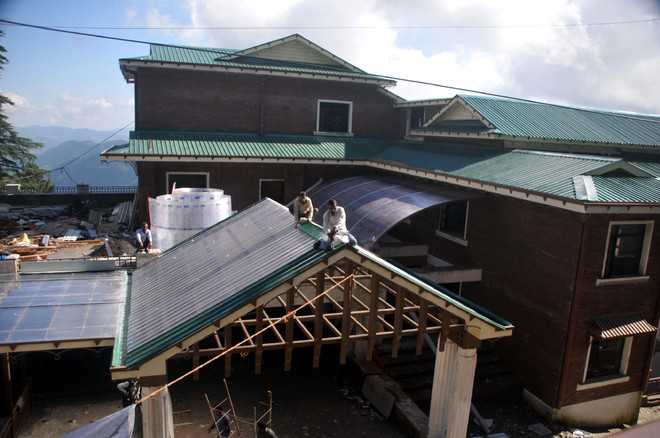 Bhanu P Lohumi
Tribune News Service
Shimla, September 17
Shimla will finally have a decent circuit house at Willys Park in the heart of the town near the Indian Institute of Advanced Study.
The circuit house, coming up at a cost of Rs 52 crore, is expected to open by September-end this year, facilitating affordable stay to officials and others. Almost all district headquarters and small places like Narkanda, Chail, Palampur, Manali and Kasauli have circuit houses. Only Shimla did not have any such place to host guests after Himachal Raj Niwas at Peterhoff was gutted in 1981. Back then, the Governor House was shifted to Barnes's Court, the then state guest house.
Peterhoff was reconstructed and Gulsher Ahmed was the only Governor who stayed there for six months, while successive governors preferred Barnes' Court, which was finally converted into Raj Bhavan in 1993.
The circuit house with four blocks, three for rooms and one for other works will have 89 luxury, VIP and ordinary rooms; and three parking slots to accommodate over 150 vehicles. The place is approachable from the Boileauganj and Vidhan Sabha side, while a direct link from Cart Road near the RTO office is in the pipeline. "The road connecting the circuit house has been widened so that there is no congestion whenever there are functions," said Executive Engineer Ajay Soni.
The circuit house is on the valley side and the top storey is below the road level so that the view is not obstructed. Its foundation stone was laid in December 2014 and the completion has taken more than four and a half years, with furnishing of the circuit in progress.
It will have a conference room, lift, gymnasium, dining hall, lounge and dormitories and sufficient open space for landscaping. Tender for electrical works and furniture purchase has been awarded and the work is in the final leg. At present, some rooms of Hotel Peterhoff are under GAD for hosting guests and other VIPs and these rooms can be freed after the circuit house is made operational. However, the general public has nothing to cheer as nearly 50 per cent rooms will be given to the Himachal Pradesh Tourism Development Corporation (HPTDC) to be run on a commercial basis on the pattern of Himachal Bhavan in Chandigarh. The circuit house will be run by the HPTDC.