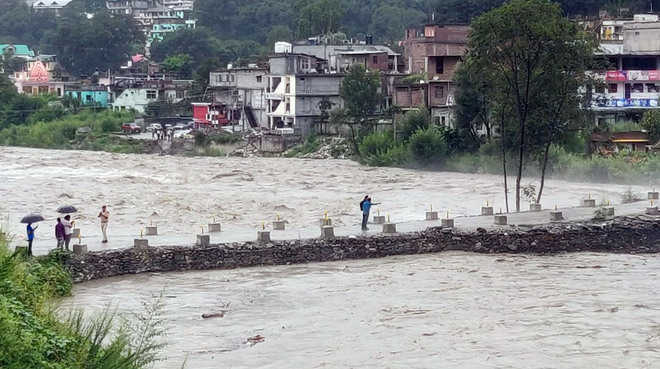 Pratibha Chauhan
Tribune News Service
Shimla, August 17
Heavy rain across the state during the last 24 hours wreaked havoc, triggering landslides and disrupting vehicular movement on 323 routes, with Kangra, Kullu and Chamba being the worst affected districts.
As a precautionary measure, the Kangra district administration announced the closure of all educational institutions today. Most rivers were in spate and streets in Nurpur, Palampur and Dharamsala in Kangra were submerged.
---
Read more:
---
The water level in most dams was close to the danger mark. The level in the BBMB, Talwara, was measured at 1363.40 feet, the BBMB, Pandoh, 2,920 feet, NTPC Kol Dam 636.79 feet, BBMB, Nangal, 1,674.54 feet and Larji Dam, Kullu, at 968.60 metre.
"We are monitoring the situation but there is no cause for alarm as the dams are releasing water and in constant touch with Punjab," said DC Rana, Director-cum-Special Secretary, HP Disaster Management Authority.
A total of 175 lives have been lost since July 1 to August 17, including those due to accident, drowning and house collapse. The PWD and Irrigation Department have suffered a loss of Rs 290.64 crore and Rs 167.82 crore. The total loss has been pegged at Rs 474.37 crore.
The Kullu district administration diverted traffic through Akhara Bazaar as the bailey bridge connecting left bank to the town was damaged. The Meteorological Department issued a warning of very heavy rain in Kangra, Chamba, Hamirpur, Bilaspur, Una and Mandi. The department issued a warning of very heavy rain tomorrow in Mandi and Kangra.
"As per forecast, the rainfall activity is likely to decrease significantly from August 19, there will be very heavy rain over the next 24 hours in Mandi and Kangra districts," said Manmohan Singh, Director of the local Met centre.
Most parts of Kangra and Chamba have been lashed by heavy rain, resulting in substantial rise in the water level in the rivers, nullahs and water channels. Most towns have received heavy rain since last night with Kangra 118 mm, Dharamsala 115.6 mm, Dalhousie 84 mm, Chamba 65 mm and Shimla 40 mm.
---
131-mm rain in Kangra
Kangra: The town recorded 131 mm rain in the past 24 hours, causing damage to national highway at Ladwara. A number of roads were blocked and damaged. A part of Pathankot-Mandi highway was washed away at Ladwara. Kewal Singh Pathania, Cong leader, said he had approached the authorities to build a retaining wall, but to no avail.