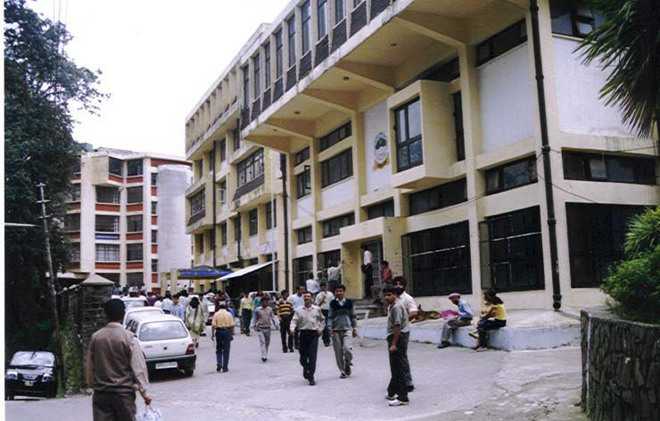 Bhanu P Lohumi
Tribune News Service
Shimla, June 30
Himachal Pradesh University (HPU) will be the first one in the country to have its own policy for persons with disabilities.
A committee, constituted by the Vice-Chancellor, will prepare the draft policy document which will be implemented after the approval of the Executive Council (EC).
A decision was taken at a meeting of the EC after the issue was raised by Ajai Srivastava, an EC member, holding additional charge of the nodal officer for disability affairs of the HPU.
The proposed policy document will incorporate all legislative provisions for students, employees and teachers, apart from the relevant judgments of the Supreme Court and HP High Court.
It will benefit all stakeholders, including students, teachers and employees of the university and affiliated colleges, said Vice-Chancellor, Prof Sikander Kumar.
"The university has taken a number of steps to facilitate persons with disabilities and the website of the university now has been accessible to the disabled persons. A library with computers and talking software is functional and installation of dozen more computers for visually impaired is in the pipeline and 14 ramps and 12 lifts are proposed to facilitate disabled employees," he added.
Srivastava drew the attention of the EC to an illegal provision regarding the removal of non-teaching employees in the Hand Book of the Himachal Pradesh University Act, 1970 and also mentioned Section 22 of First Statutes of the university which stated, "Notwithstanding anything contained in the terms of his contract of service, an employee of the university, other than a teacher, may be removed by the competent authority, if he is of unsound mind, deaf, mute or suffers from contagious leprosy."
Srivastava asserted that the provision was objectionable and contrary to the Rights of Persons with Disabilities Act, 2016, and various judgments of the Supreme Court and High Courts and provisions of the United Nations Convention on the Rights of Persons with Disabilities, 2006.
Pointing out that the specific provisions to protect the rights of the employees with disability are contained in the Rights of Persons with Disabilities Act, 2016, Srivastava said the Act said, "No government establishment will discriminate against any person with disability in any manner relating to employment".
The Act further said every government establishment will provide a reasonable accommodation and conducive atmosphere to employees with disability. They should not be denied promotion on the ground of disability and no government establishment will dispense with or reduce the rank of an employee who acquires a disability during his or her service.
Srivastava said amendments should be made in the HPU Act and First Statutes to protect legal rights of the employees with disabilities.
Steps in their favour
HP University has taken a number of steps to facilitate persons with disabilities
The website of the university has now been accessible to the disabled persons
A library with computers and talking software is functional and installation of dozen more computers for visually impaired is in the pipeline
As many as 14 ramps and 12 lifts are proposed to facilitate such employees