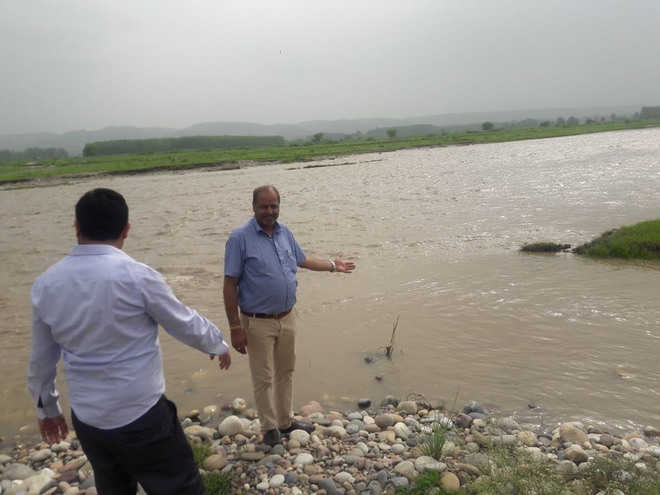 Lalit Mohan
Tribune News Service
Dharamsala, August 4
A day after thousands of fish were found dead in the Swan on the Punjab-Himachal border, the Himachal Pradesh Pollution Control Board (HPPCB) on Saturday swung into action and conducted surprise checks at various industrial units in Tahliwal and Mehatpur. The HPPCB authorities again blamed Punjab Alkalis and Chemicals Limited (PACL), a Punjab Government undertaking, for fish mortality.
SK Dhiman, Executive Engineer, HPPCB, countered the claim of the Punjab pollution board that no industrial effluent from the neighbouring state was released into the river. He said a drain from the PACL entered the Swan near Dayapur village. Fish had died beyond this point. There was no fish mortality on the Himachal side, the Executive Engineer of the HPPCB claimed.
Earlier also, the HPPCB authorities had blamed the PACL for contaminating underground water in Himachal villages which was denied by the PACL authorities.
Dhiman also said they had collected samples from the discharge points of the Himachal industry and sent these for testing. No concrete evidence had been found regarding the fish being killed from the industrial effluents released from the units in Himachal, he said.
However, residents of Santokhgarh, a town on the banks of the Swan, have a different story to tell.
Madan Lal, 82, of Santokhgarh, who takes his cattle for grazing, said the water turned black at points where the industrial waste from Tahliwal and Mehatpur areas was released into the Swan. "Due to the release of industrial waste, I developed severe allergies in my feet. I have spent Rs 5,000 on medicine, but the problem still persists," Madan Lal said.
Mool Raj, another resident of Santokhgarh, runs his service station on the banks of the Swan in Santokhgarh. He said the river emanated a foul smell at night, making it difficult for them to sleep.
The SDO of the Punjab Pollution Control Board (PPCB) Jatin Joshi on Friday claimed that since no industrial unit from Punjab was releasing effluents, the fish might have died due to the pollution caused by the industrial units in Himachal.
PACL denies charge, says no waste discharged
Punjab Alkalies and Chemicals Limited (PACL) authorities, however, denied that any toxic waste was discharged into the river by the company. PACL deputy general manager MPS Walia said it had been a zero-discharge plant for several years and not even a single drop of effluent was discharged from the unit as everything was consumed within the plant.
Top Stories