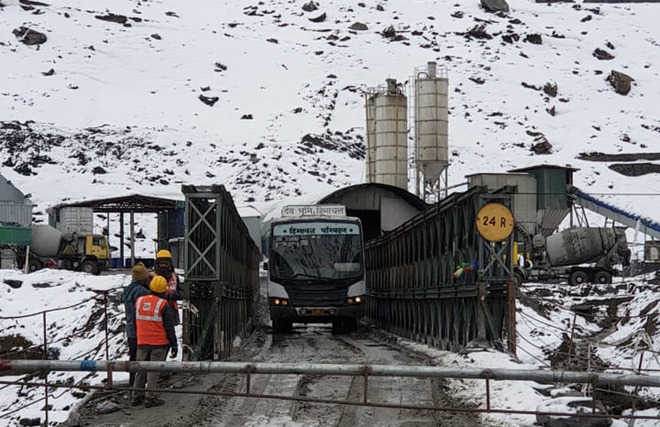 pender Manta
Tribune News Service
Mandi, November 17
On the demand of tribals, the BRO has allowed movement of Himachal Road Transport Corporation (HRTC) bus via Rohtang tunnel between Manali and Keylong.
The Tribune had highlighted the plight of the residents of tribal district of Lahaul-Spiti in its news columns on November 15. The news report said that the tribals were facing huge inconvenience travelling between Manali and Keylong because of the closure of Rohtang Pass, gateway to Lahaul on the Manali-Leh highway, due to frequent snowfall.
Taking notice of the news item, the district administration Lahaul-Spiti raised the issue with BRO Rohtang tunnel authority on November 16.
Deputy Commissioner Lahaul Spiti K K Saroch urged the Chief Engineer of Rohtang tunnel authority to allow one HRTC bus service daily between Manali and Keylong for the convenience of the tribals. Finally, the Chief Engineer accepted the demand and allowed the HRTC bus service via Rohtang tunnel. The service started yesterday, bringing relief to the tribals.
"A 47-seater bus is plying between Manali and Keylong via the tunnel daily since Saturday. Only single bus service would be allowed for now. The people of Lahaul-Spiti are advised to avoid using their own cars to cross the tunnel because only emergency vehicles are allowed via tunnel. Construction work is in progress there and it cannot be used for normal traffic because it will hamper the labourers working there".
The residents of Lahaul Spiti heaved a sigh of relief on Saturday, when one HRTC bus moved via the tunnel between Manali and Keylong. Sanjiv Kumar, Tenzin Karpa, Suraj Thakur and a few other people of Lahaul valley thanked the paper for highlighting their plight. "We are also thankful to Agriculture Minister Ram Lal Markanda for his support on the issue", they said.
Top Stories