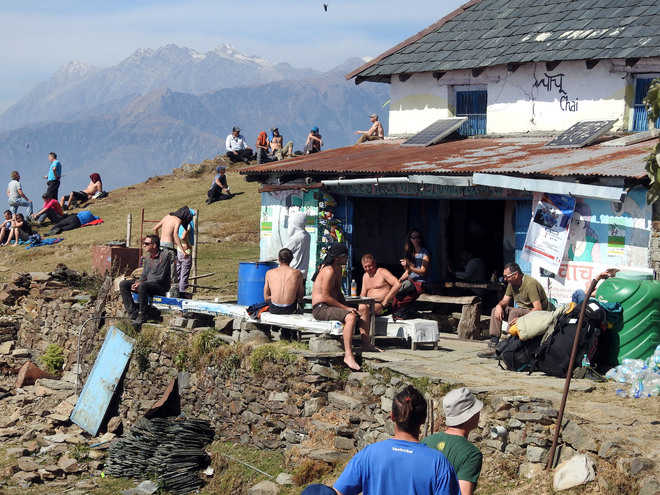 Lalit Mohan
Tribune News Service
Dharamsala, November 8
The recently concluded India Open 2018 Paragliding championship at Bir Billing has brought to the fore the problem of illegal buildings coming up at the take off site at Billing and the landing site at Bir. The paragliders, who have been flying in the area for more than a decade now, say that illegal buildings are posing a threat to Bir Billing as the world's top paragliding site.
Interestingly, sources here said that most of the land at Billing take off site was forest land. Due to this, the government had failed to create any public facility as it requires permission from the Union Ministry for Environment and Forest to change the land use from forest land to other purpose.
However, many people have raised pucca and kucha structures on the land. Most of those who have raised structures at Billing are running tea shops for the tourists and paragliders who throng the area, especially at the weekends. The people who have raised structures at Billing are now claiming ownership of the land on which they had raised structures.
How the forest land got converted into the name of individuals at Billing remains a subject of investigation for the authorities. However, the SDM Baijnath, Vikas Shukla, who is chairman of the Special Area Development Authority (SADA), when contacted, said that demolition notices had been issued to people who have raised illegal constructions at Billing take off site. He said that action would be taken against the culprits after due process of law was followed.
However, the problem of high rise buildings coming up on the fringes of the Bir landing site was more acute. Private people own land along the Bir landing site. As Bir Billing was growing popular the numbers of domestic and international tourists coming to the area has increased. This has led to mushrooming of small guest houses and hotels. The construction activity in the area was regulated by the Town and Country Planning Department, says SADA. As per the present rules and regulations, only one-storey buildings can be raised in the vicinity of the landing site at Bir. However, already two to three-storey buildings have come up along the landing site. Some of the buildings have exposed iron rods on roofs that pose threat to lives of paragliders landing in the area. Sources here said that during the stint of the previous Congress government a proposal was brought forward to ban construction within 500 metres from Bir landing site. After resistance from locals, the ban was limited to 300 metres. However, the proposal could never become a legislation.
The result was that rampant construction both legal and illegal was taking place both at Bir and Billing that might destroy it as an ideal paragliding site for which the area has shot into fame.