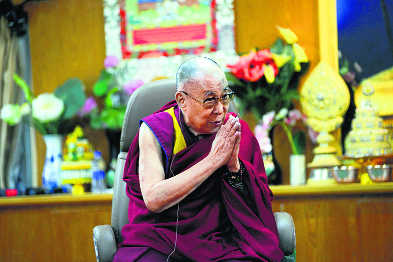 Lalit Mohan
Tribune News Service
Dharamsala, October 25
The Dalai Lama today said the Lama institution had its origins in a feudal set up. He was interacting with students of the Ancient Indian Wisdom certificate course at the Government College here.
He said in India, the Buddhists had no tradition of reincarnation or the Lama institution. "It developed in Tibet. I think it was because of some connection with the feudal system. Many Tibetan institutions are related with feudalism. I feel it's time that we revert to the Indian system of Buddhism in which there was no Lama system."
The statement comes at a time when the Chinese Government has been asserting that they would install the next Dalai Lama. The Tibetan government-in-exile, at a specially convened meeting, had said China could not have a say in the matter, which was the prerogative of the Dalai Lama.
Responding to another query, the Dalai Lama said: "My physical self is in India, but the mind in Tibet with six million Tibetans." He also said his main concern was that the Tibetan language and Tibetan plateau environ be preserved. "Some individual Chinese businessmen are exploiting the natural resources in Tibet. At times even the Chinese Government issues them notices," he observed.
Top News
Ballistic missile and satellite tracking ship 'Yuan Wang 5' ...
Apprehensions in New Delhi about the possibility of the vess...
Two legislators from the Congress, one from Jitin Ram Manjhi...
Were returning from Amarnath yatra duty
In the wake of latest development, Centre sought urgent hear...