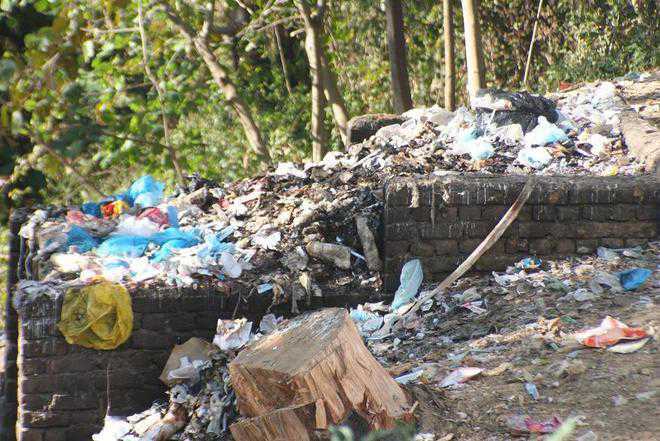 Ravinder Sood
Palampur November 25
Plastic junk littered in most forest areas can destroy the ecology of the hill state, even result in the death of wild animals, if the authorities concerned do not act now.
Heaps of plastic covers, mineral water bottles, chips packets and sweet foils are a common site in Palampur, Bir Billing, Jwalamukhi, Kangra, Baijnath,McLeodgunj and Dharamsala despite a ban on the sale and use of plastic imposed by the state. Most of the forest land and picnic spots are littered with plastic items and there is no one to remove these.
The government agencies that are responsible for managing the affairs have become a mute spectator allowing the dumping of plastic in forest land and local rivulets. The forests on, Bir-Billing, Dharmsala-McLeodgunj, Mubarkpur- Kangra, Pathankot-Mandi and Palampur-Dharamsala highways have virtually turned into dumping ground.
Environmentalists attribute the careless dumping of plastics items by tourists to lethargic monitoring of the officials involved in the conservation of the area.
While most part of the region falls under the reserved forest category, the remaining areas are governed by the municipal councils and corporations.
"Sustaining the biodiversity of the area is not possible without the cooperation of tourists, who by and large lack civic sense prompting them to throw away the plastics items after use," some forest officials pointed out.
Ecology under threat
Heaps of plastic covers, mineral water bottles, chips packets and sweet foils are a common site in Palampur, Bir Billing, Jwalamukhi, Kangra, Baijnath, McLeodganj and Dharamsala
Likely to play havoc with the ecology of the area
Environmentalists attribute the careless dumping of plastics items by tourists to lethargic monitoring of officials
Top Stories
Relief, ecstasy & vindication | Hockey team rewrites history