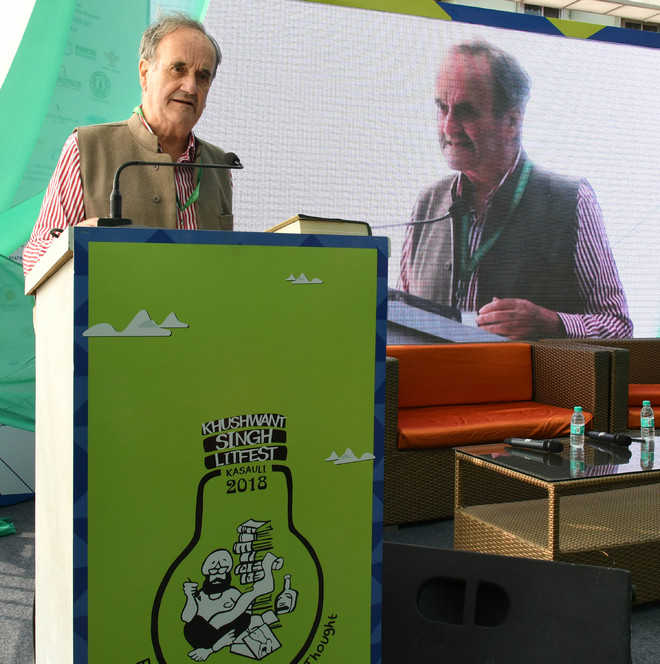 Tribune News Service
Solan, October 8
The eighth edition of the Khushwant Singh Literary Festival will be held from October 11 to 13 on the theme "Of Saints and Sinners" to commemorate 550 years of Guru Nanak, 150 years of Mahatma Gandhi, centenary of poet Kaifi Azmi as well as Jallianwala Bagh and 20 years of the Kargil conflict.
A host of entertaining sessions by Soul's Diet, Vibration and Sufi singers have also been added to the series of the sessions where the literary luminaries will converge.
Among the Bollywood celebrities who will attend include Sharmila Tagore, Manisha Koirala, Javed Akhtar, Shabana Azmi, Gulshan Grover, etc. Other noted personalities drawn from various sections of society who will make their presence felt in the three-day fest include BN Goswamy, Giles Tillotson, Shantanu Roy Chaudhari, Navtej Sarna, Tavleen Singh, Ramin Jahanbegloo, Col Satish Tyagi, Ashok Alexandra, Swapna Liddle, Rashmi Saksena, Priyanka Pathak Narain,Lt Gen DS Hooda (retd), Minnie Vaid, Bachi Karkaria, Sonam Wangchuk, former General Ata Hasnain (retd) and Swati Chopra.
Noted television personalities like Sagarika Ghose and Vishnu Som were also slated to come for the fest in this town where the fest has become an annual feature. Organised in the memory of Khushwant Singh, who owns a summer home here, the fest attracts an agog crowd drawn from various states. It is organised by his son Rahul Singh.
Top News
The CBI has registered an FIR in connection with alleged irr...
Says CBI raid reward for good performance
Punjab ministers Harjot Bains and Chetan Jouramajra also sla...
5 kidnappers arrested; wanted to sell the child for Rs 50,00...
Canada is one of the popular destinations for Indian student...