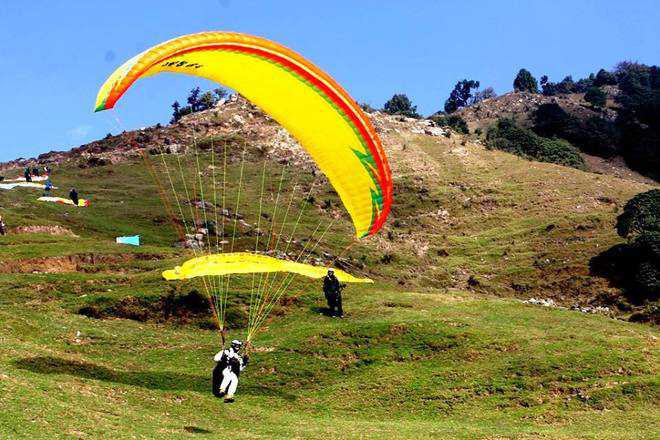 Ravinder Sood
Palampur, June 5
Rise in fatal mishaps during paragliding at Bir-Billing has raised a question mark over the safety and security of tourists and pilots, especially foreigners who are not well-versed with the geographical conditions here.
The failure of the state government to put in place a safety mechanism has made paragliding a risky affair not only in Billing, but other such paragliding spots across the state. The death of a Mohali-based tourist in Kullu recently has brought a bad name to the Tourism Department.
Last year, Singaporean pilot Kok Chang died after his paraglider crash-landed in the Dhauladhar hills. His body was found trapped in dense forests. Besides, two foreign pilots — one Russian and another Latvian — had sustained serious injuries when their gliders crashed near Jhatingari in Mandi district and in the Bundla hills of Palampur. Both pilots had taken off from Billing. Another missing pilot, Jostewis, was rescued from the mountains by a team of rescuers. A senior official claimed that all pilots involved in the recent accidents had adequate flying experience. However, due to sudden change in the weather accompanied by high-velocity winds, they were blown away to different directions.
He said the state government had taken all safety measures to avoid any untoward incident. Pilots were being allowed to fly only after proper verification of their documents.
However, information gathered by The Tribune revealed that most pilots involved in the accidents lacked experience and had incomplete documents. The failure on part of the state agencies to check their equipment made the matter worse. Besides, there are reports saying pilots fleece tourists in violation of rules. Many pilots lack dual insurance cover which has been made mandatory by the state government.
Pair of siblings Pavi Sareen and Naveen Sareen, who introduced paragliding in Billing in 1990, said flying in high-altitudes areas such as the Dhauladhar hills and the Kullu valley without the required experience could be dangerous. Most mishaps occurred as pilots lacked knowledge of the topography of the Dhauladhar hills.
They said the Tourism Department should either ban paragliding in the state or implement strict rules. Pilots should be given adequate guidance in this regard.
Lack of experience to blame
Most pilots involved in accidents lack experience and have incomplete documents.
The failure on part of state agencies to check their equipment regularly has made the matter worse.
Most pilots are fleecing tourists in violation of rules.
Some pilots lack dual insurance cover that is mandatory.
Top News
Officials say two minor girls, daughters of main accused, we...
Jaishankar said that the human bond between the two countrie...
Says the gurdwara is open to people from all communities and...
Following recent killings, Pakistan's ISI relocated several ...
Arrested smugglers identified as Sarabjeet Singh of Jhalandh...