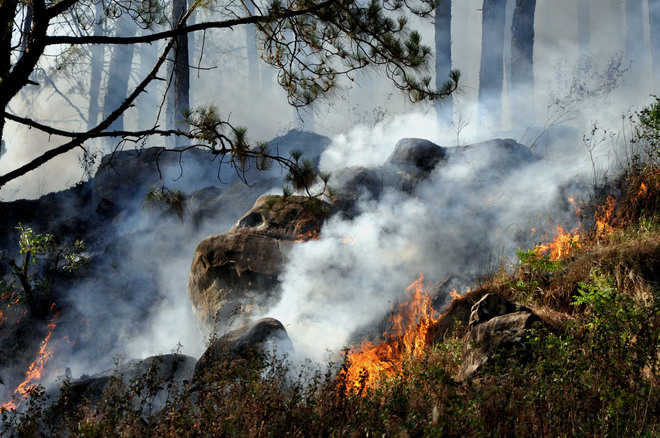 Lalit Mohan
Tribune News Service
Dharamsala, June 21
The pine forest around Dharamsala has been on fire for the past few days, damaging forest wealth and creating a sense of fear among residents. The Forest Department is of the view that 98 per cent of the forest fires caused in Kangra district in May were man-made.
Talking to The Tribune, Conservator of Forests, Dharamsala, Dev Raj Kaushal said most of the forest fires that ravaged the forests in Kangra district last month were man-made. "About 98 per cent of forest fires are man-made as people set fire to forests to clear the forest surface for grass. I have appealed to the people of the district not to set forests on fire or else they could lose their rights over forest wealth," he said.
When asked, the Conservator said so far forest fires had caused a loss of Rs 37 lakh in Kangra district. He said 1.6 per cent of the total 2.53 lakh hectares of forest in Kangra district was affected due to forest fires. He said 525 workers had been deployed to check forest fires in Kangra district.
The Conservator said very few cases of forest fire happened in the last three years, due to which there was a large deposit of dried-up pine needles that might have helped forest fires spreads. The Forest Department also erred in clearing the deposition of pine needles through controlled fires, he said.
As for a number of cases of fire in pine forests, DFO, Dharamsala, Pradeep Bharadwaj, said pine trees were hardy and resistant to fire and drought. Until and unless there was crown fire in forests the pine trees are not damaged. In Dharamsala division, no crown fire was reported, he said.
The DFO said the Army from Dharamsala Cantonment had greatly helped in dousing forest fires. Brigadier Brar, heading the Dharamsala Cantonment, had provided his men and material to the Forest Department for dousing forest fires in Dharamsala area.
Sources said Minister for Forests Govind Thakur convened a meeting of officials regarding raging forest fires through video-conferencing. The minister informed the officials that in areas that could not be reached by foot, the state helicopter could be provided for dousing forest fires. The Forest Department had been planting pine trees in forest areas in the past few decades due to better survival rate of the trees. Today, pine forests comprise about 20 per cent of the total forest area of the Dharamsala circle of the Forest Department.
There are about 27,910 hectares of pine forests in Dharamsala circle of the Forest Department.
The pine forests have created problems both for farmers as well as the Forest Department. Pine trees have allelopathic effects. Allelopathy is a biological phenomenon, by which pine trees produce bio-chemicals that do not allow any kind of vegetation growth in the surroundings. There is hardly any undergrowth of grass in pine forests. Besides, there is generally a heavy deposition of dried pine needles under the trees. These needles are highly inflammable and easily catch fire, especially during the summer season, when the temperature is high.
Top News
Local Government Minister Dr Inderbir Singh Nijjar 'resigns'...
Hand over medals to BKU chief
'United World Wrestling will hold a meeting with the wrestle...
Locals, CRPF and police personnel rush to the spot and launc...
Home minister is currently visiting Manipur as part of effor...