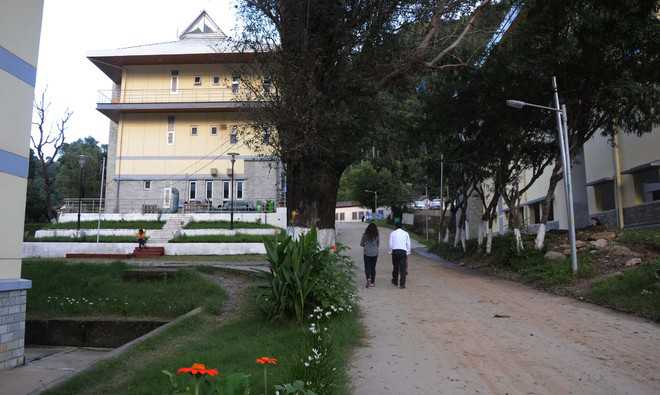 Dipender Manta
A research team from the Indian Institute of Technology Mandi has developed complex nano-dimensional capsules that can be used for multimodal imaging and treatment of tumors. It paved the way for better understanding and development of theranostic techniques for cancer and other diseases.
Doctor Amit Jaiswal, Assistant Professor, School of Basic Sciences, IIT Mandi said that theranostics is an emerging field in medicine, especially in oncology, and combines "diagnostics", the detection of abnormalities and maladies, with "therapeutics", treatment of the malady.
"It involves the use of a single multifunctional agent that can diagnose ailments, deliver drugs and monitor treatment efficacy. The promise of theranostics is that it could enable treatment options that are individual-specific, which can conceivably result in better prognoses", he added.
Dr Jaiswal and his team have developed a ''smart'' nano-material that can serve as an effective theranostic agent. He said that plasmonic nano-capsules have functionalities that make them useful in diagnosis through a technique called Surface-Enhanced Raman Spectroscopy.
First-of-its-kind summer school
The IIT Mandi is organising a first-of-its-kind an eight-day long, "Summer School on Advanced Lithography and Device Fabrication, from basics to contemporary methods." The course is being offered from June 25 to July 2.
Doctor Subrata Ghosh, Course Coordinator and Associate Professor, School of Basic Sciences, IIT Mandi, said that the course is designed especially for students and faculty from engineering institutes, colleges and practitioners from industries. The objective of this eight-day course is to enhance the knowledge of participants in the area of advanced lithography and device fabrication, particularly how lithography technique is used for fabrication of semiconductor devices.
She said that this summer school is going to be unique in many aspects. It will focus more on practical demonstration including lithography patterning and device fabrication.
IEEE Industry Application Society Awards
IIT Mandi students have won three awards under 'Outstanding Student Branch Chapter Chair', 'Continued Outstanding Performance Student Branch Chapter' and 'Web Contest' categories in the Chapter and Membership Development (CMD) contest of the Institute of Electrical and Electronics Engineering (IEEE) Industry Application Society, US.
Adil Usman, a PhD Scholar and Student Chapter Chair 2018, Rajesh Pindoriya, PhD Scholar and Student Chapter Chair 2019, Jhalak Chaudhary, 2nd Year B.Tech, Computer Science Engineering and Utkarsh Jain, 2nd year B.Tech, Computer Science Engineering student at IIT Mandi will receive the awards during the IEEE IAS annual meet 2019 to be held in Baltimore, USA, from September 29 to October 3.
Discussion on advances in magnetism
School of Basic Sciences IIT Mandi recently organized a discussion meeting on recent advances in magnetism. The meeting was arranged for fostering ideas and deeper understanding of the emerging aspects of fundamental and applied magnetism, a current frontier area in condensed matter physics research.
Director of IIT Mandi Timothy A Gansalves said that in this meeting total participants were 70 which included 20 external participants from different Indian institutions.
Himalayan Innovation Challenge 2019
The Indian Institute of Technology Mandi Catalyst, the first technology-based Incubator in Himachal Pradesh, successfully organised the first edition of 'Himalayan Innovation Challenge' for startups and innovators on May 25 - 26. The Himalayan Innovation Challenge (HIC) -building solutions for Himalayan Region - is an initiative to actuate a series of innovative technology-based solutions designed specifically to solve social and economic problems in the Himalayan region.
Catalyst aims at creating an impact in a range of relevant areas that bear importance for Himalayan region. More than 120 teams, ranging from individuals to organisations, willing to deliberate, debate and innovate to this end, applied for the Himalayan Innovation Challenge 2019 from which over 30 teams were shortlisted.
Top News
In Shraddha case re-run, accused Manoj Sane kept woman's cho...
'It's better that truth comes out now instead of court'
Jaishankar said two sides will have to find ways for disenga...
Injured children aged between 22 months and 3 years: Police ...
Mohammed Siraj most successful Indian bowler, finishing with...