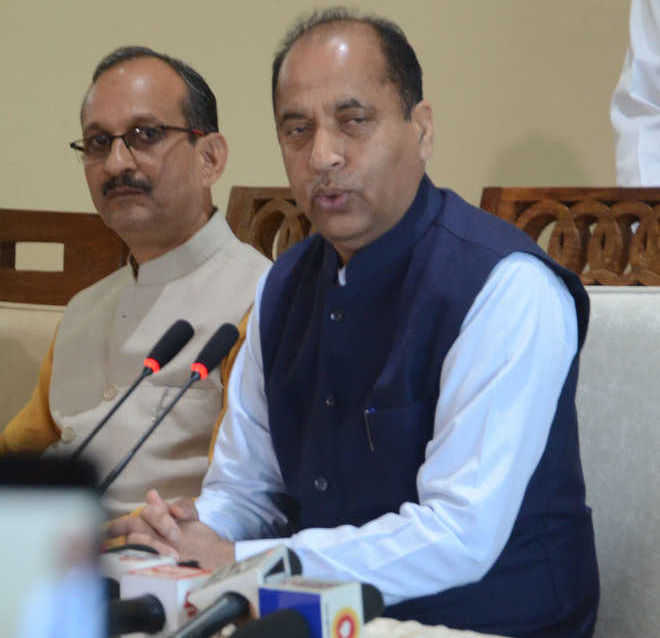 Tribune News Service
Dharamsala, October 12
Chief Minister Jai Ram Thakur said today that there was no disenchantment among party workers in the Dharamsala and Pachhad Assembly constituencies over the selection of candidates for the by-elections. The parliamentary board of the party comprising Prime Minister Narendra Modi, Union Home Minister Amit Shah and acting BJP president JP Nadda took the decision on the candidates. Since Nadda is from Himachal, his word was final in the selection of the candidates. There was no discontentment in the party and all leaders were working unitedly, he added.
Thakur, while addressing mediapersons here, said that the state government was concerned about the detention of Tibetan students in Chennai ahead of the visit of the Chinese President. The matter was being taken with the Union Government, he added.
About the slowdown in the economy and loss of jobs in the country, he said that very few units had closed down in Himachal. This was due to the positive policies of the present government towards investors.
About the allegations of the Opposition that the state government was biased against Kangra, he said that it was a mere propaganda of the Congress. The Opposition party had been targeting the BJP government for shifting many developmental projects such as mid-Himalayan and horticulture development and many offices from Kangra.
About the car of the MD of the HRTC used in Chandigarh by the wife of the Transport Minister and Rs 2.5 lakh stolen from it, the Chief Minister said that investigation in the case was going on. He added that the Opposition was unnecessarily creating an issue over the incident.
About providing a government helicopter to former Chief Minister Virbhadra Singh, Thakur said that it was done on humanitarian grounds. The government had recently provided an official helicopter to shift Virbhadra Singh from the PGI, Chandigarh, to Shimla.
About problems in the helpline started by the state government, the Chief Minister admitted that there were some technical glitches but expressed hope that they would be removed soon.
Later, while addressing a rally at Ghana village, he appreciated Union Minister of State for Finance and Corporate Affairs Anurag Thakur for bringing an international cricket stadium in Dharamsala.
Interestingly, while he praised Anurag Thakur for the cricket stadium, the Union minister was not invited to campaign in Dharamsala for the by-elections.
Cong charge of bais against Kangra false: Thakur
The Chief Minister rejected the Congress allegation of the state government discriminating against Kangra as mere propaganda.
He expressed concern about the detention of Tibetan students in Chennai ahead of the visit of the Chinese President.
He said despite a slowdown in the economy very few units had closed down in Himachal.
Top Stories