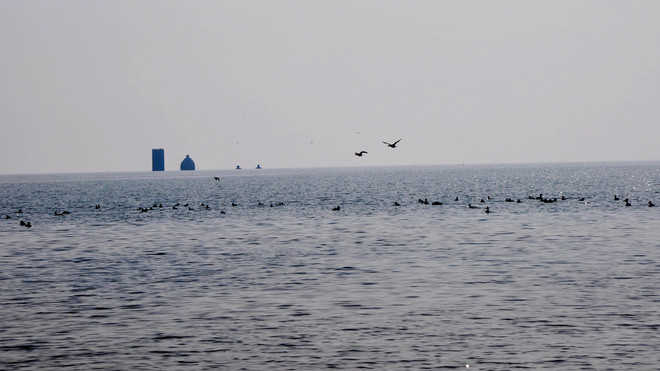 Lalit Mohan
Tribune News Service
Dharamsala, November 10
Besides rejecting 5,442 claims, the Rajasthan Government has also turned down the proposal of the state government to provide financial compensation to 2,501 Pong Dam oustees, who were offered land in Jaisalmer.
They were among the16,300 oustees whose claims were accepted by the Rajasthan Government. They were eligible for getting land in fertile areas but were being offered land in arid areas of Jaisalmer, which the oustees rejected.
Recently, politicians of Himachal, including BJP MP from Hamirpur Anurag Thakur, Independent MLA from Dehra Hoshiar Singh had mooted a proposal that the Rajasthan Government should provide them financial compensation so that they could buy land elsewhere.
An agitation was held on the bank of the Pong Dam in which the oustees, backed by the politicians, had claimed that if the government did not provide them financial compensation, they would reclaim their land by filling the Pong Dam lake. Anurag Thakur had taken up the matter in Parliament.
A meeting was held by BJP leaders from Himachal with the Union Minister for Water Resources Nitin Gadkari who assured them to intervene in the matter.
Sources said Chief Minister Jai Ram Thakur had also written to the Rajasthan CM to consider financial compensation to the oustees.
However, highly placed sources told The Tribune that in a Chief Secretary-level communication, the Rajasthan Government had expressed inability to provide the compensation.
Anurag said if the government was not willing to compensate the oustees, the case should be taken up by the Centre. The oustees had given up their land for the sake of the nation and should be compensated. He would take up the matter with Gadkari again.
The construction of the Pong Dam was started in 1962 and completed in 1966. The dam was constructed near Talwara in Punjab. However, the lake behind the dam consumed about 330 villages of the Guler valley, one of the most fertile areas of Himachal.
Rajasthan has been a beneficiary of the dam. The Beas water is released to Rajasthan through Ferozpur head works. About 51 per cent water from the Pong Dam goes to Rajasthan.
Initially, 20,362 oustees laid claims for compensation. Of these, total number of families, eligible for allotment of land in Rajasthan, were found to be 16,300.
Of these, just 11,300 were allotted land. Even of the 11,300, about 700 are fighting cases in various courts to get possession of their land. About 2,501 have not been allotted land. Since the irrigated land kept as pool for the oustees, the land has been encroached upon by the locals.
Endless wait
Pong Dam was constructed in 1966
As many as 330 villages submerged in the lake
Around 16,300 oustees were found eligible for land allotment in Rajasthan
Rajasthan and HP Chief Ministers had signed an agreement in 1970 to allot 15.625 acres to each family
As many as 11,300 oustees were allotted land, while 700 are still fighting for possession
As many as 2,501 are still waiting for the land promised to them by the Rajasthan Government