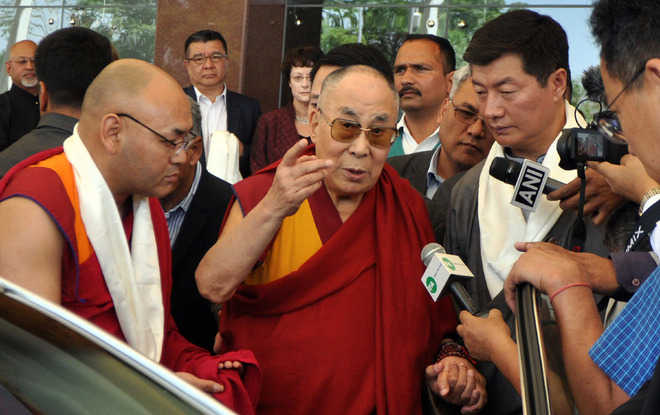 Lalit Mohan
Tribune News Service
Dharamsala, April 25
The Dalai Lama has said the 11th Panchen Lama, Gedhun Choekyi Nyima, according to reliable source, is alive and carrying normal education. He was talking to mediapersons at the Gaggal Airport on Wednesday.
The statement of the Dalai Lama came on the occasion of the birthday of Panchen Lama. The Tibetan spiritual leader, who had just returned from a four-day Delhi visit, was asked to respond on the occasion of Panchen Lama's 29th birthday.
"I hope the official Panchen Lama studies quite well under the guidance of a good teacher. When I recognised Panchen Lama sometime ago, there was no news about him. But according to reliable information, he is still alive and carrying normal education," the Dalai Lama said.
He said there were instances in the Tibetan Buddhist tradition where a reincarnate Lama took more than one manifestation.
"One century ago, a famous Khyentse Wangpo, manifested five incarnations (body, speech, mind, quality and activity). Of course, holding of the seat is just one thing, but something like manifestation of the previous incarnation could be more," he said.
Prior to the media interaction, the Dalai Lama had a brief meeting with Jillian Turner, programme officer from the US State Department, Bryce Isham, First Secretary at the US Embassy, and JP Das, country exchange officer at the American Centre, Ngawang Younten, Department of Education, and Tenzin Choephel, programme coordinator at Tibet Fund.
Representatives of the Central Tibetan Administration, including president Dr Lobsang Sangay, speaker Khenpo Sonam Tenphel, Tibetan parliament-in-exile, Kalon of Department of Security, officials of CTA received the Dalai Lama at the airport.
Meanwhile, Tibetan activists carried out a candlelight march to mark the 29th birthday of Panchen Lama.
On May 14, 1995, Gedhun Choekyi Nyima, aged six, was recognised by the Dalai Lama as the 11th Panchen Lama of Tibet. Three days later, on May 17, 1995, he along with his family went missing. Since then, their whereabouts have remained unknown and Gedhun Choekyi Nyima is one of the world's longest serving political prisoners, the CTA maintains.
The Panchen Lama is significant in the Tibetan culture because of the tradition that he heads the teams who identifies reincarnation of the Dalai Lama after his death.
Top News
The Ministry of Defence spokesperson from Tezpur says the mi...
45-50 people, including women and children, were on the bus
Reason for the crime not yet known
Another encounter at Moolu in the same district is in progre...