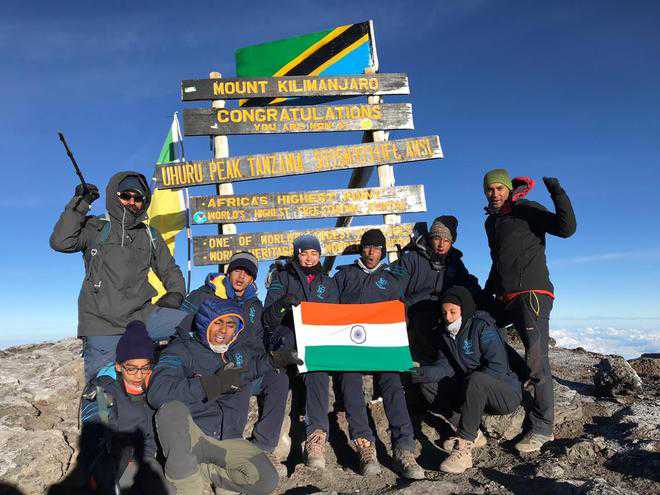 Braving the steep climb and extremely harsh climatic conditions in the course of reaching the summit, a team of eight students, including two girls, led by Cdr Navneet Singh Nagi, head of the administration, Pinegrove School, Solan, scaled Mt Kilimanjaro, the highest mountain peak of the African continent in Tanzania. The challenging expedition tested the courage, perseverance and endurance of the contingent. The team started the climb using the Machame route on September 29 and successfully hoisted the National Flag and the school's banner on the 5,785-m high Uhuru Peak at 7 am on October 4.
HPTU VC honours students
Prof SP Bansal, Vice-Chancellor, Himachal Pradesh Technical University (HPTU), gave away prizes to students of Him Academy Public School, Vikasnagar, on the annual day function 'Abhivyakti'on Thursday. He awarded citations to the students of classes I, IV, VIII and X for their achievements. Over 200 prizes were given. RC Lakhanpal, chairman, and Naina Lakhanpal, principal, were also present on the occasion. Prof SP Bansal laid emphasis on improving the quality of education and inculcating habits of punctuality and cleanliness among the students.
Inter-School Hockey Tournament
The 22nd Sub-Junior Inter-Public School Hockey Tournament 2019 for U-12 Boys was inaugurated by chief guest Brig Naveen Mahajan, Brig Commander, Kasauli, at Pinegrove School, Dharampur, in Solan district. The tournament will conclude on October 12, 2019. Five teams from elite public schools from all over the country are competing for the coveted title. The host school are also the defending champions. The opening match was played between the defending champions — Pinegrove School — and Daly College, Indore, in which Pinegrove boys outplayed their rivals 2-1. Arpit Sharma of the winning team won the 'Player of the Match' award. Another match of the tournament between Mayo School, Ajmer and PPS, Nabha, ended in a draw 2-2. Pranav of PPS, Nabha, was declared 'Player of the Match'. The third match of the day was played between Scindia Boys School, Gwalior, and Daly College, Indore, and resulted in 6-1 in favour of Daly College. Aarush of the winning side was the proud recipient of the 'Player of the Match' award.
Geeta Adarsh Vidyalaya players shine
Geeta Adarsh Vidyalaya (GAV), Solan, emerged runners-up three events, including in the U-19 girls CBSE cluster tournament. The final match was played with Guru Nanak School, Paonta Sahib, at Tohana, Fatehabad, in which GAV team bagged the runners-up trophy. In the U-19 girls volleyball final match, the school team won the first runners-up trophy while putting up a brave defence against KDL Public School, Kurukshetra, in Sirsa. In the U-19 boys football final match held in Fatehabad, GAV team gave a tough fight to DPS School, Solan, yet again, winning the runners-up trophy .The school management, principal, joint principal and the school staff applauded the efforts of the students.