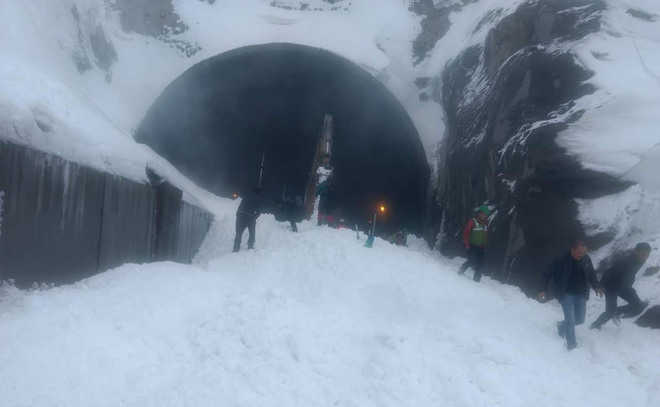 Dipender Manta
Tribune News Service
Mandi, November 11
The Himachal Pradesh State Electricity Board (HPSEB) has decided to lay electric cables beneath the Rohtang tunnel to check power outages in the tribal district of Lahaul-Spiti during winter months,
At present, power transmission lines of the 33 kW, Kullu substation, pass through the 13,050-feet Rohtang Pass from Manali to Lahaul-Spiti. These lines frequently get damaged during winter months because of heavy snowfall.
Since the pass receives more than 20-ft of snow during the winter, it becomes difficult for HPSEB officials to restore power supply in time. Residents of Lahaul-Spiti are forced to live without power for months.
Power Minister Anil Sharma, while talking to The Tribune, said, "We are planning to lay the electric cables beneath the Rohtang tunnel. This will help the department to ensure regular power supply to the residents of Lahaul-Spiti."
Official sources said the HPSEB had submitted a proposal to the BRO authorities to provide space for laying the cables under the duct of the tunnel. According to reports, the BRO would discuss the issue with experts to know the feasibility of the proposal.
Residents of Lahaul-Spiti said it would be a huge relief for them as power supply and telecommunication services remained disrupted for months during winters.
Agriculture Minister Ram Lal Markanda had also urged Defence Minister Nirmala Sitharaman to allow telephone cables to be laid beneath the tunnel.
Top News
China is yet to name its Ambassador to India after Sun Weido...
In his police complaint, Sikh priest says 'Waris Punjab De' ...
Scotland Yard blockades area outside India House, several ad...
Minister for Water Resources Gurmeet Singh Meet Hayer moves ...