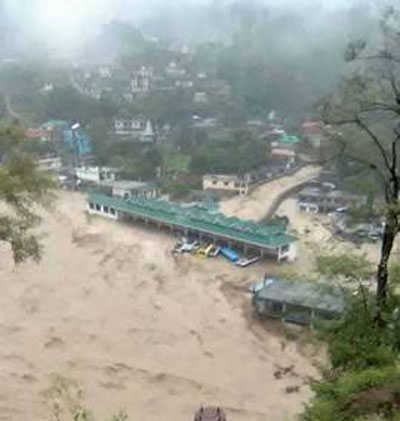 Pratibha Chauhan
Tribune News Service
Shimla, October 17
The officials, who finalised the site for construction of the Dharampur bus stand in Mandi, could face serious action. The inquiry report submitted by the Divisional Commissioner, Mandi, into the damage caused to the bus stand by flash floods has said the site selection was wrong as the structure was built on the bed of the Sone nullah.
Chief Minister Virbhadra Singh had entrusted the task of holding an inquiry into the washing away of the bus stand on August 8, 2015, with Mandi Divisional Commissioner Davesh Kumar. He submitted his report to the government this week in which the blame had been put on those who selected and approved the site for the bus stand, constructed at a cost of about Rs 2.50 crore.
Following the report, the government is likely to fix the responsibility for the destruction. The flash flood submerged nearly 100 shops in and around the bus stand, besides houses and office buildings in the town.
The report mentions that the selection of the site was nothing short of "void ab-initio" which means that right from the beginning everything was wrong with the proposal. It was built on the land marked as "Gair Mumkin Khud" in revenue records. The report also mentions the fact that the site had been flooded earlier.
Sources said the report had pointed out some glaring lapses such as finalising the site despite the report of the Executive Engineer, indicating that it was a flood-prone area. Despite this, the government went ahead with the construction. Incidentally, Dharampur happened to be the Assembly segment of Mahender Singh, then Transport Minister in the previous BJP regime.
Another interesting aspect of the inquiry report is the remarks that if flood protection measures are to be undertaken at this site, they will turn out to be very expensive. "The site is so vulnerable that in case flood protection measures are to be taken, the expenditure will turn out to be even higher than the cost to be incurred for building a new bus stand," remarked an officer.