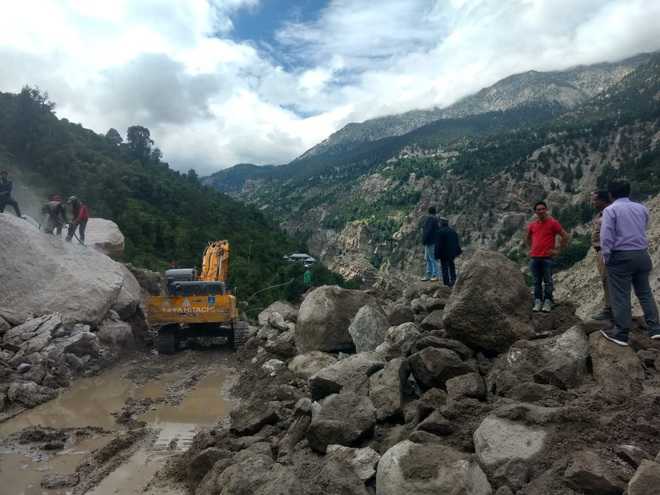 Bhanu P Lohumi
Tribune News Service
Shimla, August 8
Heavy rain wreaked havoc in Kinnaur district on Wednesday, washing away six shops and endangering some houses in Powari Bazar, about 220 km from here. A sudden rise in the water level of the Sutlej on Tuesday evening has caused massive soil erosion.
The district administration has also suspended the annual Kinner Kailash pilgrimage due to adverse weather conditions and flashfloods. The yatra was suspended on Tuesday after a pilgrim, identified as Sanjay (60) from Muzaffarpur, died near the cave due to hypothermia. Nearly 100 pilgrims were stranded in flashfloods.
They were rescued in the evening, said SP, Kinnaur, Shakshi Verma.
Officials said shops and bazars had been evacuated. No loss of human life had been reported, while the loss to property was being assessed. Rescue operations by the police, the Army, the ITBP and Home Guard personnel were in full swing.
A bridge near Ribba has been declared unsafe due to soil erosion. Efforts are being made to open National Highway-5, near Ribba, which was blocked due to flashfloods.
Landslides triggered by heavy rain have blocked 325 roads in the state. As many as 211 roads were blocked in Mandi zone, 85 in Shimla zone, 17 in Kangra zone and 12 in Hamirpur zone. At least 308 JCBs, tippers and other vehicles have been pressed into service. A PWD official said 200 roads were expected to be opened for traffic by Thursday evening.
The local MeT office has warned of heavy rain in low and middle hills on August 11 and very heavy rain in low and middle hills on August 12.
It has forecast a wet spell in the region till August 14.
Light to moderate rain lashed most parts of the state. Saloni received 56 mm of rain in the past 24 hours, followed by Dehra Gopipur 55 mm, Dharamsala 47 mm, Mandi and Manali 31 mm each, Mashobra 19 mm and Nahan and Sarahan 10 mm each.
Top News
The former Madhya Pradesh CM is likely to put in his papers ...
Rode was accused in the 1985 bombing of the Air India jet Ka...
Last week, the US Justice Department alleged that an Indian ...
ED raids in Haryana, Rajasthan in money-laundering case agai...
Landfall in Andhra Pradesh today