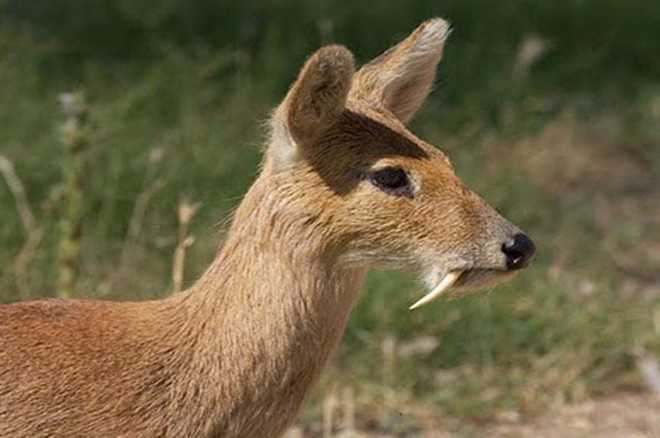 Dipender Manta
Tribune News Service
Kullu, December 2
The Great Himalayan National Park (GHNP) authorities have a reason to cheer. A team of forest officials that visited the park a few days ago spotted a rare species of musk deer.
RS Patiyal, director, GHNP, Kullu, said the team was here to assess the presence of rare species of animals in the area and during that period, it noticed two musk deer at Gumsrao.
He added that the presence of the rare species of deer in the area was a good sign.
The GHNP authorities are unaware of the exact number of musk deer in the national park having numerous flora and more than 375 fauna species, including 31 mammals, 181 birds, three reptiles, nine amphibians, 11 annelids, 17 mollusks and 127 insects. They are protected under the strict guidelines of the Wildlife Protection Act-1972, which is why any sort of hunting is not permitted.
He said the presence of animals such as blue sheep, snow leopard, Himalayan brown bear, Himalayan tahr and musk deer can be noticed in the park area at an altitude of 3,500 m and above.
"We are hopeful that the strength of musk deer will increase in the park area in the near future. Conservation of wildlife in the Western Himalayas is the priority of the GHNP authorities," said Patiyal.
In May 2015, the authorities spotted a rare and elusive serow in the GHNP area, indicating an increase in the presence of rare species of animals and birds on the verge of extinction because of the prevalent illegal hunting by miscreants during winter when animals come to lower areas. The GHNP director stated that the authorities were putting in efforts to conserve wildlife in the park area and was regularly monitoring the protection of wildlife. Hidden cameras had been installed hidden cameras at various places, he said. The Great Himalayan National Park (GHNP) was declared a UNESCO World Heritage Site on June 23, 2014.
Top News
Former PPCC chief says he would visit Sidhu Moosewala's hous...
Rashid, alias Chalta Firta alias Sipahiya, carried a cash re...
He was addressing a gathering at Rani Kamalapati railway sta...
PM Tshering said he had said 'nothing new' as Bhutan media b...
Indian and Chinese soldiers clashed along the Line of Actual...