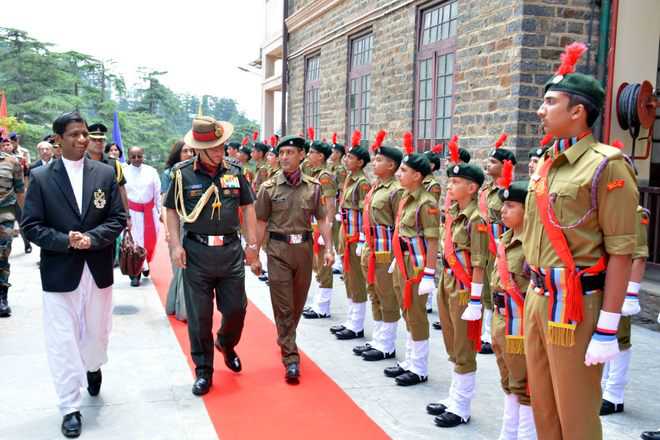 Tribune News Service
Shimla, May 13
It was a nostalgic journey down the memory lane as Army Chief, General Bipin Rawat, a 1972-73 passout, visited alma mater St Edward's School during his visit to Shimla today.
During interaction, he replied a number of queries of students. He motivated them to join the Army. He also spoke about his involvement in various operations, especially against the Naxals, as the students were eager to know about him.
Replying to a question that was it the family pressure or his passion for the Army that inspired him to join the forces, the Army Chief said there were not too many streams way back in the 1970s and he was always motivated by the men in uniform.
"I am impressed by the turnout and drill of NCC cadets and wish you all the success", he wrote in the visitor's book which would always be a prized possession for the school. Interestingly, the new visitor's book started with his quote.
The General was escorted through the school gate by the principal Father Anil Sequeira and Bishop Ignatius Mascarenhas and then presented the guard of honour. The programme organized in his honour began with the lighting of the traditional lamp.
General Rawat, accompanied by his wife Madhulika Rawat, spent about one-and-a-half hours in the school and visited three classrooms and physics lab. "It is a proud moment for the school as well as the students as the Army Chief is from St Edwards", said school captain Adhishrey with whom the General had a brief talk.
General Rawat also paid a visit to ARTRAC where he was briefed on the training activities and initiatives by Lieut Gen PC Thimmaya.
Top News
Aviation Ministry had imposed lower and upper limits on dome...
Tejashwi Yadav is deputy CM
New CJI will have a brief tenure of less than three months
A bench of Justices Surya Kant and J B Pardiwala also extend...
BJP fields Sushil Modi, a long-time confidante of Nitish and...