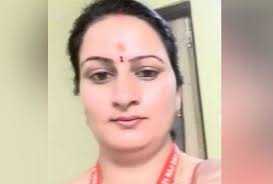 Ambika Sharma
Tribune News Service
Solan, October 20
Winning the key Pachhad Assembly byelection has become a prestige issue for the ruling BJP. Having won the seat on two previous occasions, the party is leaving no stone unturned to maintain the winning momentum, particularly after emphatic victories in the Assembly and the parliamentary elections.
The party's decision to field a novice, Reena Kashyap, however, appears to have handed an edge to Congress' GR Musafir. BJP's rebel Dayal Pyari was also posing a formidable challenge to the ruling party which was working hard to register its third consecutive victory.
The BJP had ignored Dayal Pyari, who enjoyed support among voters, and chose a candidate whose public acceptance was not as wide. Despite having the advantage of being in the ruling, the BJP leaders were having anxious moments.
The BJP's decision to give Lok Sabha ticket to its Pachhad MLA Suresh Kashyap, who later won the poll, was also opposed by a section of the voters who resented that Kashyap had been given the mandate to represent them in the Vidhan Sabha. Whether rallies addressed by CM Jai Ram Thakur and former CM Prem Kumar Dhumal and hectic campaigning by senior leaders will translate into votes for the party candidate remains to be seen.
Dayal Pyari, who has considerable following, is sure to dent the party's voter share. Having won three zila parishad elections from two different wards, she has proved that she is a popular leader. She had also remained zila parishad chairperson. She has been vociferously raising the issue of having been marginalised in her party and harping among the voters the injustice meted out to her. Importantly, she is finding support across party lines. She is one candidate against whom the people have little to feel aggrieved.
The most experienced candidate, GR Musafir of the Congress has seven electoral victories to his credit. Banking primarily on the infighting in the BJP and division in party votes, Musafir has an indirect advantage though he is not seen to be a popular choice among the youth.
With both the BJP and Congress blaming each other for lack of good roads and inadequate water and power availability in the constituency, it remains to be seen who gains the voters trust.