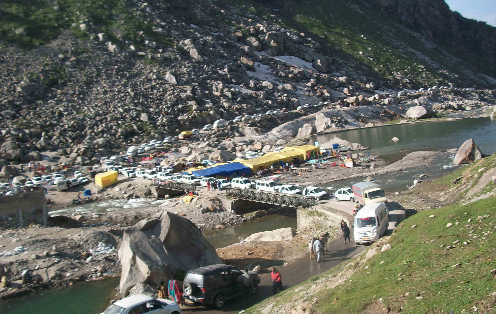 Kuldeep Chauhan
Tribune News Service
Shimla, January 20
Thanks to stiff opposition from local stakeholders, the state government is likely to go by the wishes of the people over the controversial Palchan-Kothi-Rohtang ropeways project.
Locals in Manali have been up in arms against the project, saying that it will deprive them of their source of livelihood and result in cutting of hundreds of trees from Kothi, Gulaba to Marhi.
As all efforts to persuade the locals have failed to yield the desired results, the project had pushed the BJP government in dilemma.
The government faces the wrath of the National Green Tribunal (NGT), which had directed the Department of Tourism and Civil Aviation (DTCA) to fast-track the project to save the Rohtang Pass from further degradation.
On the other hand, the government faces the stiff opposition from locals including villagers of Nau Gaon, hoteliers, taxi operators, tour operators, travel agents, local winter sports bodies and mahila mandals. They have joined hands against the project.
The NGT had directed the DTCA to fast-track the project to decongest the Rohtang Pass. Officials hold a series of meetings with the stakeholders a few months ago, but they received no positive response. The stakeholders have remained firm. However, they say if the state government insists, it should change its alignment by connecting the new tourist spots of Brighu, Fatru or Hampta, which will go a long way in decongesting Rohtang.
In a shrewd move, the DTCA changed the category of the ropeway project from the "general to linear category". As per rules, the ropeway's private promoter needs not get a no-objection certificate (NOC) for a linear project from the local gram panchayats, revealed a senior tourism official here.
Following change of the guard in the state, the efforts are now afoot to change the alignment of the project, connecting the unconnected new spot to decongest Rohtang. "New idea is that the tourist traffic will shift to the 8.82-km-long Rohtang traffic tunnel, which is expected to be ready by 2019 or so," revealed a senior forest official.
After the Rohtang tunnel opens, the traffic to Rohtang will come down drastically in summer months.
"This will achieve the NGT's objective. The idea is to decongest Rohtang to save its ecology," said a senior forest official.
Forest, Transport and Sports Minister Govind Thakur, who is also a legislator from Manali, said they would go by the will of people. "We are examining its pros and cons and will take a final call on the ropeway project shortly," he added.
---
Faces NGT, stakeholders' wrath
The government faces the wrath of the NGT, which had directed it to fast-track the project to save the Rohtang Pass from further degradation
On the other hand, locals in Manali have been up in arms against the project,
saying that it will deprive them of their source of livelihood and result in cutting of hundreds of trees from Kothi, Gulaba to Marhi.
The stakeholders say if the state government insists on it, it should change its alignment by connecting the new tourist spots of Brighu, Fatru or Hampta which will go a long way in decongesting Rohtang