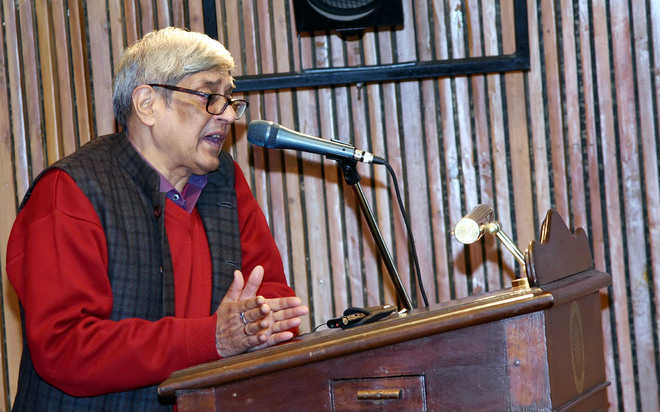 Kuldeep Chauhan
Tribune News Service
Shimla, December 27
Chairman, Economic Advisory Council to the Prime Minister, Dr Bibek Debroy on Thursday said researchers and scholars should make efforts to translate over 10 million manuscripts, two-third in Sanskrit, which were almost rotting in various places.
Dr Debroy, who is also a member of NITI Aayog, said Sanskrit was important as it linked all cultures and languages in the country. "We people do not translate Sanskrit texts into English. It is Harvard which is training translators to do so," he added.
He was here to deliver the 23rd Dr Sarvepalli Radhakrishnan Memorial Lecture on "The Dharma of Translation: Sanskrit Classics in Contemporary Times" at the Indian Institute of Advanced Institute Studies (IIAS). Dr Debroy has translated from Vedas, Puranas (3 volumes), Mahabharata (10 volumes), Valmiki Ramayana (3 volumes) and Bhagavad Gita into English.
He said the National Mission for Manuscripts (NAMAMI), set up in 2003, has listed just 3.5 million manuscripts out of the estimated 40 million in India. "The two-third of these is in Sanskrit and 95 per cent are yet to be translated. It is sad that economists are doing this job," he added.
"Sanskrit is not being taught on the basis of verbal roots, which makes it the easiest language to understand," Dr Debroy said. He also recited shlokas from the Bhagavad Gita and termed the Vedants and Upanishads as quintessence of Hinduism. Before the lecture, Prof Chaman Lal Gupta, Vice-Chairman, IIAS, said translation should be correct and meaningful as it reflected the soul of the text.
Top News
New legislation aims to regulate Net | Wants Google, Faceboo...
First US ex-Prez to face such ignominy
On world tour, Altman has pushed for IAEA-like agency to mon...