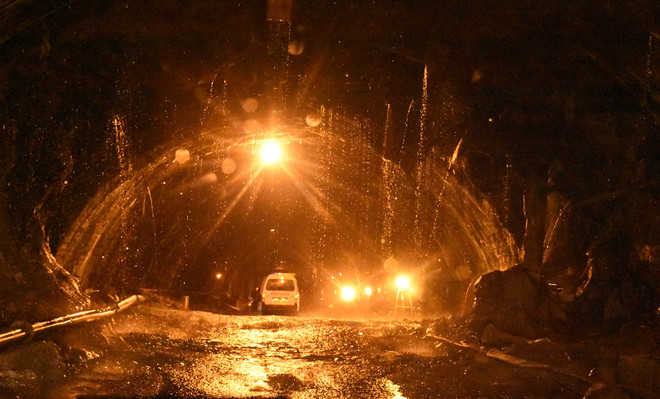 Dipender Manta
Tribune News Service
Manali, July 27
Water ingress from Seri Nullah is posing a big challenge for the BRO in constructing the Rohtang tunnel and meeting the deadline. The BRO is under pressure to accomplish the task before the Lok Sabha elections next year.
However, the BRO has set March 2020 deadline for the completion of this ambitious project, because the work force was facing problems moving ahead from Seri Nullah.
In reply to a query, Chief Engineer NM Chander Rana said, "Dealing with water ingress from Seri Nullah a big challenge for us. We are trying to find a permanent solution to the problem and efforts were on in this direction. We are hopeful that we will be successful in de-profiling and rectification of Seri Nullah stretch of the tunnel early but it will take time."
He said as the winter season was not too far the BRO was focusing on constructing outside portal building for ventilation purpose, which is also a major challenge. The temperature in winter season remains below the freezing point due to heavy snowfall.
"We are going to start electrical and mechanical work of the tunnel in the coming days. Designs have been prepared for the purpose", he remarked.
The horse-shoe shaped tunnel will have an inbuilt fire safety system, telephone booths at every 150 m and an entrance to emergency escape point at every 500 m. The road tunnel will be under the Rohtang Pass in the eastern Pir Panjal range of the Himalayas on the Manali-Leh highway. With 8.8 km length, this will be one of the longest road tunnels in India.
The drilling for the tunnel through the Himalayan ranges began on June 28, 2010 at south portal, 30 km north of Manali. The boring work on the tunnel was completed on October 12, 2017. This connected the south portal in Manali to the north portal in Lahaul.
---
Dealing with water ingress from Seri Nullah a big challenge for us. We are trying to find a permanent solution to the problem and efforts were on in this direction. We are hopeful that we will be successful in rectification of Seri Nullah stretch of the tunnel early but it will take time. — NM Chander Rana, Chief Engineer