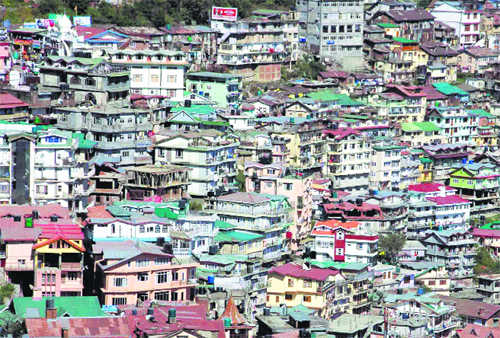 Bhanu P Lohumi
Tribune News Service
Shimla, June 10
The Nepal earthquake has shifted the concern of experts towards unsafe buildings in the state. Falling in seismic zones IV and V, these high-rise buildings pose a threat to residents.
Earthquake-proof buildings can be constructed in the future, but there is no option, except introducing earthquake-resistant features through retrofitting to save already existing buildings from collapse in case of an earthquake in Shimla, said Anand Goyal, an expert.
Earthquakes of high intensity are noticed easily, but tremors of mild intensity aggravating seismic activity go unnoticed. Studies undertaken by School of Research and Training in Earthquake Engineering, Roorkie, has pointed towards the plate movement in Shimla region.
"Shimla is in zone IV, but it is leaning towards zone V, making it highly vulnerable to an earthquake and serial collapse of unsafe structures can lead to major catastrophe," he cautioned.
"In order to provide guidance and assistance to people regarding retrofitting and making the building designs ductile, APG Shimla University is launching a six-month course in retrofitting to make the existing buildings earthquake resistant and providing suitable designs for structural safety of buildings," said Professor Goyal, who is also the Vice-Chancellor of the university.
The course will focus on evaluation of deficiency in the buildings to ascertain whether the fault is in design, beams, columns or foundation and evolving suitable designs for retrofitting.
People are aware that retrofitting can strengthen the buildings, but overlook the risk as it is a costly affair and we suggest that in case, the cost is more than 70 per cent, the building should be razed and reconstructed, He said: "Ductile buildings with earthquake-resistant features swing during high intensity earthquake, but do not collapse and as such the loss of property and human life is less."
A survey conducted by the United Nations Development Programme revealed that most buildings in Shimla, constructed in recent years, were structurally unsafe and posed a threat to the local population.
"The biggest threat is to some of the heritage buildings, which if damaged, can't be rebuilt or involve a high cost for restoration," the survey stated. Referring to the Bhuj (Gujarat) earthquake, the expert said safety of school buildings was equally important.
Except a disaster management plan in place for Shimla and several reports gathering dust, no serious efforts have been made to protect structures.
Top News
Bills were passed after more than six hours of debate spanni...
Among the 10 who put in their papers are nine Lok Sabha MPs,...
Resignation of Union ministers also revived speculation of r...
The withdrawal of statement by MP Senthil came when the Hous...
The Punjab DGP office had written a letter to Rajashthan Pol...