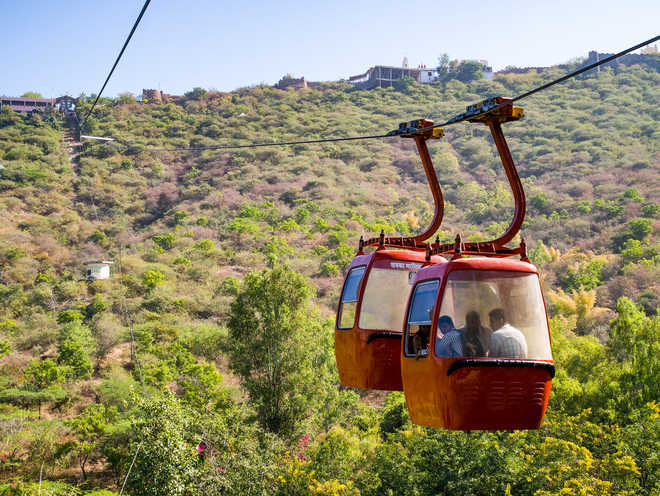 Kuldeep Chauhan
Tribune News Service
Shimla, September 17
The Director General of the Airports Authority of India (AAI) and the Central Public Works Department (CPWD) are virtually sitting on a letter sent by the state government for getting a no-objection certificate (NOC) for the Rs 250-crore Tutikandi-Jodha Niwas ropeway project.
"We have sent a new request letter to the AAI as it had sought some changes in the affidavit submitted by the Shimla MC's project director," said Prem Das Narwal, project official. But neither the CPWD, nor the AAI had bothered to respond to the letter sent by the Secretary, Urban Development, to them a few months ago," he added.
The project aims at providing a hassle-free mobility to tourists and locals, decongesting the narrow city roads. The Shimla Municipal Corporation (SMC), which is executing the project, will earn Rs 10.62 crore per annum from it.
There was no airport on the route of the ropeway. The SMC needed to raise towers for cable cars for which the AAI's NOC was required. The CPWD owned a part of the land at Tutikandi parking complex, the starting point of the ropeway, but the DG, CPWD, had not responded to the state government's letter even after months, said a project manager. Due to the delay of over four years, the cost of the project had increased to Rs 250 crore from Rs 200 crore estimated earlier and it might go up further. The company was to build the project on the public-private partnership (PPP) mode in two-and-a-half-year time. Also, the government had not evinced keen interest in this project. The foundation stone of the project was laid by then Chief Minister Virbhadra Singh in June 2015.The SMC had got in-principal approval for the project from the Ministry of Environment and Forest and Climate Change early this year. "We are taking up the matter with the AAI and CPWD authorities in Delhi", said Pankaj Rai, Municipal Commissioner.
The SMC had signed an agreement with Usha Branco (UBL) in 2015 for the construction of the 2.8-km ropeway project for 40 years.
But the company has neither deposited Rs 8 crore as earnest money, nor opened its office in the city even after four years, citing lack of project clearance from the state government as reason.