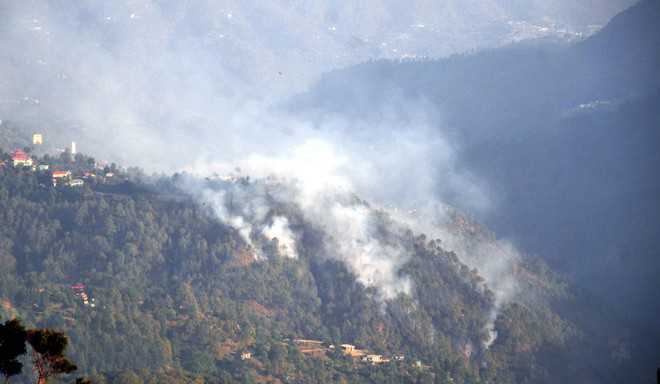 Pratibha Chauhan
Tribune News Service
Shimla, May 21
As fires rage through pine forests, the Forest Department is hoping to combat the blaze with the help of pre-warning fire alerts for the next one week from the Forest Survey of India (FSI), a first of its kind initiative at minimising loss.
Even though the delayed onset of summer kept the situation under control till now, the middle hills of the state comprising thick pine forests in Bilaspur, Hamirpur, Solan, Sirmaur and Shimla are smouldering in view of the soaring mercury. A total of 215 forest fires were reported yesterday. Frantic efforts are on to prevent these from spreading across a vast area.
"A total of 282 fires, affecting 2236.40 hectares of land and causing an estimated loss of Rs 28.90 lakh, have been reported from April 1," revealed Alok Nagar, Chief Conservator, Forest Fires. He added that it was for the first time that the budgetary allocation of Rs 1 crore was made exclusively for combating forest fires.
Keen to make use of technological advancements in fighting forest fires, the department has for the first time tied up with the Forest Survey of India (FSI) which will provide pre-warning alerts for the next one week.
"The alerts will indicate the forest areas which will be most susceptible to fire depending on parameters like the last date of precipitation, moisture levels and high temperatures," said Nagar. Besides the pre warning alerts, satellite imagery was also being used to combat the fires.
Depending on the vulnerability, fire watchers are concentrated in the areas and the assistance of the local panchayats, NGOs, mahila and yuvak mandals is sought as part of preparedness.
As another new initiative, about 7,000 are connected on the mobile and the alerts from the FSI are also sent to them.
The department has categorised the forest beats — 339 as highly sensitive, 667 medium sensitive and 1020 low sensitive. As an additional incentive, the government has also decided to provide Rs 200 per month for the fire season of three months to each of fire watchers.
Top News
Separatist still at large | 6 FIRs, 114 arrests so far | ISI...
1 held for pulling down Tricolour in London
Unveils $75 bn plan to counter China
IG Sukhchain Singh Gill said specialised units are involved ...