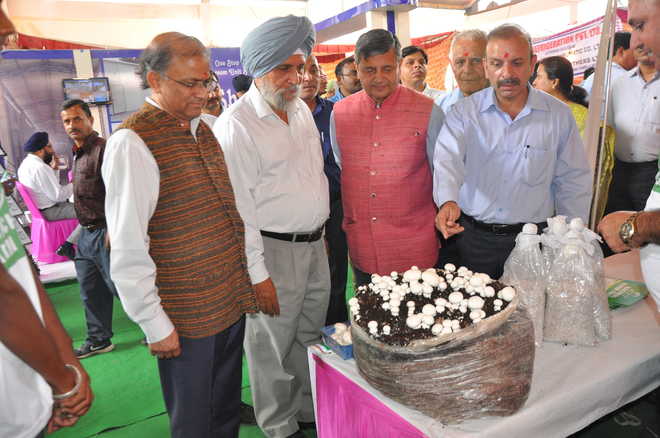 Tribune News Service
Solan, September 10
Even as the Indian Council of Agriculture Research (ICAR)-funded Directorate of Mushroom Research, Solan, celebrated its 22nd commemoration day today for being declared as the Mushroom City of India, the state lags behind at the fourth position in mushroom production.
The state barely has two medium to large button mushroom production units - Himalayan International Private Limited at Paonta Sahib and Vikas Mushroom Farms at Solan. These produced 4,500 tonnes per annum and figured in the top mushroom producing units. Mushroom production was initiated in Solan in 1961.
The fair was inaugurated by the chief guest Dr AK Singh, DDG (Horticulture Science), ICAR, New Delhi. Dr Parvinder Kaushal, Vice-Chancellor, Dr Yashwant Singh Parmar University of Horticulture and Forestry, Nauni, honoured the chief guest.
The mushroom fair showcased the latest technologies developed by the directorate which included cultivation technology of the most-prized medicinal mushroom, bottle cultivation technology of winter mushroom and improved varieties of oyster, shiitake and paddy straw mushrooms.
More than 40 entrepreneurs, mushroom growers and NGOs exhibited their products and around 1,200 farmers from Himachal Pradesh, Punjab, Haryana, Delhi, Maharashtra, Uttar Pradesh, Bihar, Jharkhand, Madhya Pradesh, Sikkim, Assam, Meghalaya, Orissa, Jammu & Kashmir, Kerala and Andhra Pradesh, participated in the fair.
Two state growers honoured
Six farmers were honored for adopting innovative technologies and contribution made to mushroom production
They included two from Himachal
Anil Thakur from Mamlig in Solan district produces 250 kg mushroom daily
Prithi Chand from Hamirpur district has been into this venture since 1998 and has employed 20 people. He produces 90 kg mushrooms daily
The state has only two mushroom units. These produce 4,500 tn/pa