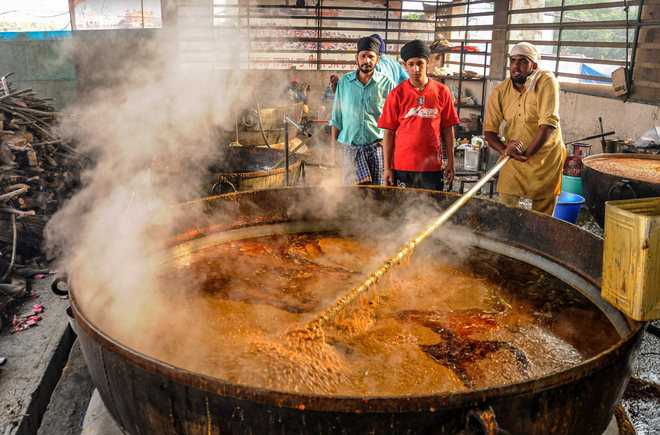 Dipender Manta
Tribune News Service
Mandi, August 13
To ensure that devotees are served hygienic langar at places of worship, the state government will soon launch 'Project Bhog' in the state.
The Food Safety and Standards Authority of India (FSSAI) has taken the initiative to implement 'Project Bhog' across the country.
On August 9, Director, Health Safety & Regulation, Government of Himachal Pradesh, Naresh Kumar Lath convened a meeting with all Deputy Commissioners and asked them to implement the scheme with immediate effect in all districts.
Following the directions of the state government today, Mandi Deputy Commissioner Rugved Thakur met officials and asked Sub-divisional Magistrates to inform temple committees about the project.
The DC said in Mandi district, the project would be launched from Hanogi temple in the next few days. The SDM had been asked to inform the temple committee about the initiative.
"Temples are an important part of Indian society and food served at these places is considered pure. But one has to take care of food safety too. The FSSAI wants all religious places to maintain hygiene while preparing prasad," he added.
"Vendors selling prasad outside temples will have to obtain a FSSAI licence/registration and they also need to follow the sanitary and hygiene practices as per the Food Safety and Standards regulations. The FSSAI aims to create awareness about 'Project Bhog' to discourage malpractices related to food served as prasad and langar," he said.
Training of food handlers and vendors inside and outside the temples is an integral part of the initiative. The Food, Civil Supplies and Consumer Affairs Department will organise awareness camps with 'kardars' to make them aware of the initiative and comply with the directions of the state government.