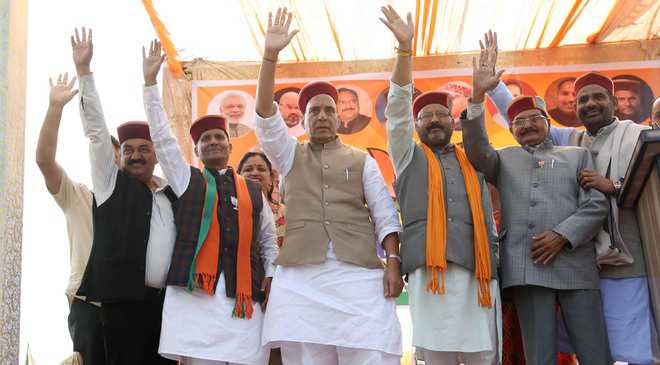 Tribune News Service
Mandi, November 1
Home Minister Rajnath Singh addressed public rallies in the Balh and Nachan constituency of Mandi district today in favour of BJP candidates.
He said despite adequate funds provided by the Centre for the development of Himachal, the Virbhadra-led state government has failed to utilise the funds for development purpose.
Targeting the Chief Minister, Rajnath said the CM was facing corruption charges, but he was not ready to leave the chair on moral grounds. He added that in the present BJP government at the Centre, there was not even a single tainted minister.
He said: "I urge leaders of all parties that they should resign from their post on moral grounds if any accusation stands against them in primary investigation. It is must to follow the norm to retain the confidence of the common man in public representatives because in the present scenario people are losing faith in their public representatives because of their involvement in corrupt practices."
He campaigned in favour of BJP candidate Inder Singh at Balh and Vinod Kumar in the Nachan constituency today.
Top News
In Mizoram, Zoram People's Movement is locked in close race ...
According to Defence Ministry, 98 per cent of the total proc...
India has constituted a probe team to investigate allegation...
Nikhil Gupta, 52, has been charged with murder-for-hire in c...
GDP growth in the first quarter of current fiscal — April-Ju...